The Bears have announced which jerseys they'll wear for all 16 games this season.
They'll don their traditional navy jerseys in six of their eight home games: against the Seahawks Sept. 17, Buccaneers Sept. 30, Patriots Oct. 21, Lions Nov. 11, Rams Dec. 9 and Packers Dec. 16.
In their two other contests at Soldier Field, they will wear their classic 1940s jerseys versus the Jets Oct. 28 and their alternate orange jerseys against the Vikings Nov. 18.
The Bears will don their white jerseys in seven of eight road games: at the Packers Sept. 9, Cardinals Sept. 23, Bills Nov. 4, Lions Nov. 22, Giants Dec. 2, 49ers Dec. 23 and Vikings Dec. 30.
The Bears will wear their alternate orange jerseys against the Dolphins in Miami Oct. 14.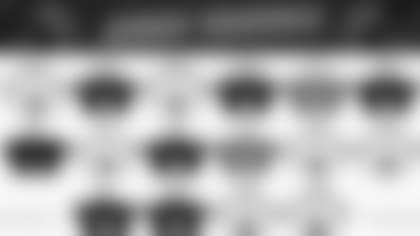 All teams are required to inform the NFL which jerseys they're going to wear for all 16 of their games by July 1. The home team gets first choice.
The Bears last wore orange jerseys in 2011 after also donning them from 2005-09.
One of the most memorable games in which the Bears wore their orange jerseys occurred on Nov. 13, 2005. On a blustery day at Soldier Field, Nathan Vasher returned a missed field goal attempt 108 yards for a touchdown in a 17-9 win over the 49ers, setting a record that has since been eclipsed for the longest play in NFL history.
Chairman George H. McCaskey is a big fan of the orange jerseys, a fondness that dates back to the early days of the franchise. The Bears won 17 straight regular-season games in 1933-34, an NFL mark that stood for 70 years until it was broken by the Patriots in 2004.
"I'm a big fan of history and to me it's not so much an alternate jersey, but one that's really reminiscent of our past when we dominated," McCaskey said in June.
For the first time this year, the NFL is allowing teams to wear alternate jerseys in addition to a classic jersey that was formerly described as a throwback.
"Before it was a tough choice because it was either the alternate orange jersey or the classic jersey," McCaskey said. "This year we're really excited that they're going to allow us to wear both in the same season."