The Bears and Bears Care, the team's charitable arm, hosted its Season Opener luncheon Friday for the first time since 2019 to kick off the 2022 "Real Bears Fans Wear Pink" campaign, which is now in its 15th season.
More than 60 cancer survivors attended Friday's event. Bears Care also hosted 13 Chicagoland organizations that serve the specific needs of breast cancer patients and survivors along with family members and caregivers.  
"We're very excited to be able to bring back the Season Opener lunch this year as part of the Real Bears Fans Wear Pink campaign," Bears Care Director Marge Hamm said. "It's an event that brings together people with a very difficult shared experience, but we also see what being together does for them. There's so much energy and enthusiasm, and it's a wonderful day to celebrate survivorship and just let them know the Bears are out there working to support cancer research and the programs that support them in their survivor's journey."
The Bears were represented at the luncheon by head coach Matt Eberflus and his wife Kelly Eberflus along with Katie Poles, wife of general manager Ryan Poles, and Barb McCaskey, wife of Bears chairman George H. McCaskey. 
Eberflus greeted survivors and supporters at the luncheon and took photos with many of the attendees. 
"It's a great thing that the Bears have done for the last 15 years that they're supporting cancer survivors in a lot of ways, through helping with meal deliveries, mental health services and just being supportive," Eberflus told ChicagoBears.com. "I just think it's a great thing the Bears organization has done and continues to do. It's really outstanding."
Members who help put together the Bears Care Gala, an annual event that raises funds for breast and ovarian cancer research, were also in attendance. In Hamm's opening remarks on Friday, she emphasized the "wraparound support" the Bears provide for women before a diagnosis, during treatment and throughout survivorship. 
Barb McCaskey, who has been a luncheon attendant for years, has seen the importance of this event and its ability to bring together a community of survivors and advocates. 
"Bears Care is privileged to support breast cancer patients, survivors and the people who serve them on their journey of healing," McCaskey said. "This luncheon connects women in all stages of this journey. They are lifted up being together for this time, and they lift up everyone around them. One woman today told me, 'This experience has had many blessings wrapped up in serious challenges. Some of the women I've connected with through the support my community offers me are closer to me than some of my own family members.' They're inspirational and so very strong."
Other speakers at the event included Advocate Health Care surgical oncologist Celeste G. Cruz and Bears team clinician Carla Suber. 
"I'm just so happy to see all of these wonderful, powerful and strong women that have undergone different paths because every cancer journey is different, just like you are all individuals," Dr. Cruz told the luncheon attendees. "It's great to see today everything that you've overcome."
Suber spoke about her personal experiences, saying she has seven close friends who have had breast cancer. 
When talking with her friends throughout their journeys, Suber emphasized the importance of "finding a way to cope and finding a way to get through each day, whether you're in treatment or out of treatment, finding that healthy way to cope. And for some, it's journaling, or some of my friends who are not athletic at all, became athletic. For some it was also finding ways to connect to communities like this to be able to find support."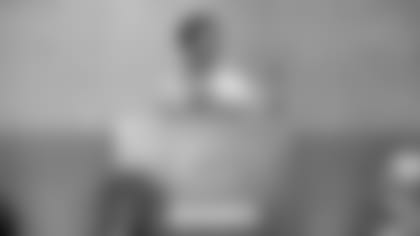 The event occurred two days after the Bears unveiled this year's Real Bears Fans Wear Pink shirt design. Shirts can be purchased for $30 at ChicagoBears.com/pink. Shirts will also be available to purchase at Sunday's home game vs. the Houston Texans and the Oct. 13 Thursday night game vs. the Washington Commanders. All proceeds benefit Bears Care and will help fund local programs that support programs serving the distinct needs of breast cancer patients and survivors, as well as family and caregivers behind the scenes.
Since 2008, Bears Care's "Real Bears Fans Wear Pink" campaign has raised funds to benefit programs providing care, assistance and support to breast cancer patients and their families. Take a look at each of the 15 shirt designs throughout the campaign's history.