Wondering about a player, a past game or another issue involving the Bears? Senior writer Larry Mayer answers a variety of questions from fans on ChicagoBears.com.
Are the Bears going to hold joint practices with another team during training camp this summer like they did last year with the Dolphins?
Dave F.
Dubuque, Iowa
Bears coach Matt Eberflus said last month at the NFL owners meetings that he'd like to conduct joint practices with another team during training camp. But because that's typically done with a preseason opponent, the Bears will have to wait for the NFL to release its preseason schedule (likely in May) before making any arrangements for joint practices. I know that both the Bears and Dolphins felt they benefitted from last year's combined workouts at Halas Hall.
I read a report online that Bears owner Virginia McCaskey is not doing well health-wise. Can you shed any light on that?
Robert K.
Illinois
Mrs. McCaskey did not attend the NFL owners meetings in Florida the final week of March. But her son, Bears chairman George H. McCaskey, told reporters at the event that his mother has recovered from a medical issue she experienced in January. Said George: "She's doing very well. She wasn't able to be here. She had a medical issue in January, which has been resolved. We're all very grateful that she's back to her regular routine, but she didn't feel up to making the trip." I can also confirm that Mrs. McCaskey attended the Ed Block Courage Award luncheon April 5 in Des Plaines. Here's a photo of her with a past winner of the award, former Bears defensive lineman Israel Idonije, and her son, Bears vice president Patrick McCaskey.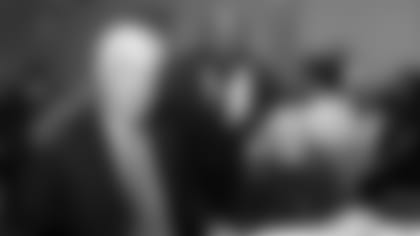 Is every player whose number is retired by the Bears in the Hall of Fame?
Matt F.
Columbus, Ohio
No, two of the 14 Bears players whose numbers are retired are not in the Pro Football Hall of Fame: Running backs Willie Galimore (28) and Brian Piccolo (41), both of whom passed away while still active players, Galimore in a car accident in 1964 and Piccolo of cancer in 1970.