During his weekly press conference Thursday, Jay Cutler discussed the health of his receivers, the challenges in facing the Arizona Cardinals defense and more.
The Bears quarterback was happy that receivers Alshon Jeffery, Eddie Royal and Marquess Wilson all practiced without restrictions for the second straight day. All three played in last Sunday's opener against the Packers after being limited in practice.
"They've had a good week," Cutler said. "I thought the last couple days, Eddie, Alshon, [Wilson], Marc [Mariani], all of those guys have competed hard out there."
Jeffery, who led Bears wide receivers with five catches for 78 yards against the Packers, is in quest of his third straight 1,000-yard season. Since 2013, he ranks fourth among NFL receivers with 2,632 yards.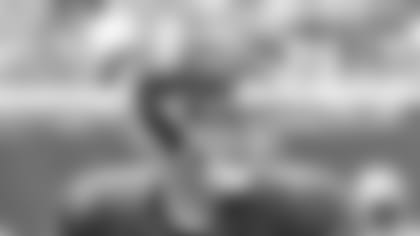 Jay Cutler drops back to pass against the Packers in Week 1.
"He's got a quiet confidence about him," Cutler said. "We know that when he steps on the field we're going to get his best effort. Off the field, in meetings, you've got to twist his arm to get some words out of him. But when he does talk you know that he's all in. He buys into what we're doing."
Cutler expects to face similar challenges against the Cardinals Sunday as he did versus the Packers. With a 31-19 win over the Saints last weekend, Arizona has now held 14 of its last 17 opponents to 20 points or less, tops in the NFL over that span.
"They're a good defense," Cutler said. "They have been for a couple of years now and nothing is going to change this year. They did a good job against the Saints and Drew Brees. They run a lot of man, do a lot of blitzing and really mix up those coverages. They keep you guessing. They throw a lot of personnel groupings at you. They'll mix up the fronts. You have to be on it as a quarterback."
Offensive coordinator Adam Gase felt that Cutler was "on it" against the Packers. The veteran quarterback completed 18 of 36 passes for 225 yards with one touchdown, one interception and a 67.5 passer rating. Cutler's only big mistake came when he was intercepted by Clay Matthews on a pass over the middle in the fourth quarter.
"The interception, that was a bad call into that defense," Gase said. "He did what was asked of him and Clay made a good play. The completion percentage, I felt we had more completions out there. We missed a couple throws, we dropped a couple passes. When that happens, maybe we would have had a few less passes if we had less drops.
"As far as line of scrimmage management, managing the game, doing a good job of getting us in and out of run checks, being right on the protection, for our first time out in our first game together, I think he did a great job."
Working with his fifth offensive coordinator in seven seasons with the Bears, Cutler feels that the offense in general is still in the process of digesting the system.
"I would say we're still thinking a little bit," Cutler said. "I don't think it would be fair to say that all 11 guys including myself have everything hammered completely home. So we're all thinking a little bit. I think Adam does a great job during the week of really going through the plays that we like and going through everything that for the most part we're going to call."
On Sunday, Cutler and the Bears no doubt will rely on their running game, which produced 189 yards on 33 carries against the Packers. Kyle Long rushed for 141 yards on 24 attempts and has averaged 7.1 yards per carry in two career games against the Cardinals. Arizona, however, enters Week 2 with the NFL's top-ranked run defense after limiting the Saints to 54 yards.
"I know that most defenses are probably going to try to take [Forte] out of the game and limit his carries," Cutler said. "But I think Adam and the rest of the guys do a great job of moving him around and kind of keep teams guessing. And with our running game, he's going to get more than his fair share of carries."