Kyle Long wasn't pleased with how he performed in his first career start at right tackle, but offensive coordinator Adam Gase disagreed with Long's assessment.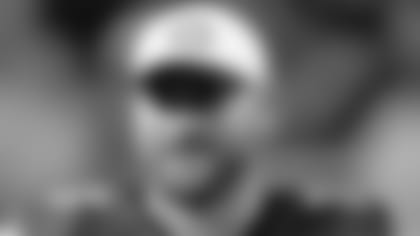 Kyle Long was selected by the Bears with the 20th pick in the 2013 NFL Draft.
"I felt like he did better than what he's giving himself credit for," Gase said Thursday. "I know he's going to be harder on himself. I thought he did a great job."

After starting 31 games at right guard his first two years with the Bears, Long was moved to right tackle for last Sunday's season opener against the Packers.

Long told reporters earlier this week that he committed a lot of mistakes, which included allowing a sack and missing a key block on a fourth-down pass play.

"There are a couple of things he needs to clean up, which he will in time," Gase said. "[But] I feel like he's going to be a top tier guy really quick. As far as what he did last week in practice, he did a great job. And then in the game, his first experience out there, I thought he did a good job."

Long seems more relaxed this week as he prepares for his second straight start at right tackle Sunday when the Bears host the Arizona Cardinals.

"He's a little bit more comfortable," said quarterback Jay Cutler. "The communication aspect is going a little smoother for him. I think the nerves of just going out there and playing that first game is over and now he can settle down.

"He knows what he is getting into. He knows what to expect on Sunday for the most part so now it's a matter of getting better each and every day, learning from mistakes and hopefully not repeating them."

Cover corner: The Bears offense will be challenged by one of the NFL's best cornerbacks in the Cardinals' Patrick Peterson, who has been voted to the Pro Bowl in each of his four pro seasons.

"He's 6-foot-1, 220 pounds, and then he runs a 4.3 40-yard dash," Cutler said. "You see him jam guys and then run with anybody on the field. He's got unbelievable ball skills. He's a guy you have to be aware of and you have to know where he is at. He's not a guy you really want to take a lot of chances with."

Peterson, who was voted the NFL's 19th best player by his peers in an offseason poll conducted by NFL Network, has 15 interceptions in 65 career games.

"He's physical, great ball skills, able to mirror guys," Gase said. "It's almost like the receivers are telling him what route they're running before the play. The guy's a phenomenal player and he's a tough match-up for whoever ends up on him."

A guy's guy: Cutler enjoyed meeting with Cardinals coach Bruce Arians at Halas Hall in 2013 when Arians was a finalist to replace Lovie Smith as Bears coach.

"I remember him being just a guy's guy," Cutler said. "You could see easily why players would be attracted to him, why players would enjoy playing for him, just in the quick hour I was with him. He loved football. He had an energy about him. He had enthusiasm. I could see why him in front of a football team would be a good thing."

Health update: Linebackers Jonathan Bostic (ankle) and Pernell McPhee (wrist) and cornerback Tracy Porter (hamstring) did not practice Thursday; defensive tackle Ego Ferguson (knee) was limited; and linebacker Sam Acho (illness) and cornerback Sherrick McManis (thigh) worked out without restrictions.