In order to get first-round draft pick Kyle Fuller on the field, the Bears are moving Tim Jennings from cornerback to nickel back in passing situations during OTA practices.
"We're going to try it out," Jennings said. "We've got to get Fuller out there, so I'll move in on nickel packages and we'll bring Fuller in at the left corner. Hopefully, it'll be a full-time thing.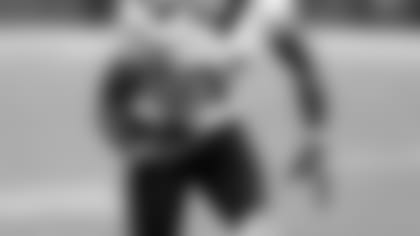 Cornerback Tim Jennings has led the Bears in interceptions each of the past two years.
"It's a little different for me. I've got to get acclimated to playing nickel and playing two positions on defense. Once I get that going, it'll be a good transition for all three of us."
Voted to the Pro Bowl each of the past two seasons at cornerback, Jennings didn't balk when told last week that he would play nickel and sees the value in getting Fuller on the field.
"I've been kind of wanting to play nickel since I got here," said Jennings, who originally signed with the Bears in 2010 after spending his first four NFL seasons with the Indianapolis Colts. "So now that I have the opportunity, I'm kind of excited about it.
"We'll see how it goes. We feel like we have to get Kyle on the field. We have to get him on the field running. So whether he has to play corner or I have to play nickel, we all have to take our jobs and do what they ask us to do and hopefully we can turn this thing around."
Jennings led the NFL with a career-high nine interceptions in 2012, and again topped the Bears with four picks in 2013. The 5-8, 185-pounder has returned three interceptions for touchdowns the past two seasons in games the Bears won by scores of 23-22, 31-30 and 27-21.
Having played the nickel position with the Colts and a few years ago with the Bears, Jennings doesn't expect the move will require a major adjustment.
"It's a little different," he said. "You're just another linebacker, an athletic linebacker. You have to be able to see a lot more things. You've got to be able to see a lot more backfield sets.
"It's a lot more reads, a lot more keys that you have to get. I've got to get used to seeing different people, different formations with my eyes and be able to see different things with my keys. It should be a couple days going out there I'll be back in the groove."
So far Jennings has been impressed with what he's seen from Fuller, a productive four-year starter at Virginia Tech who was selected by the Bears with the 14th overall pick in the draft.
"He's like a sponge," Jennings said. "In the classroom you could tell how focused he is and eager to learn, and once we got on the field, he's on it. If he's got any questions, he's not afraid to ask."
Jennings hopes that the changes in the secondary as well as the additions up front in free agency and the draft help the Bears defense rebound from an uncharacteristically poor 2013 season.
"That's not Chicago football," Jennings said. "It's not what we're known for, regardless of who was here and who we didn't have. I'm sure every guy has taken it upon himself to be better than we were last year-even the coaches, all the way down to the players and the front office.
"We've done what we've done in the offseason and now's the time to have the transition to the field. So everybody has that chip on their shoulder to get that taste out of their mouth and to get back to Bears football."