The Bears lost one of their longest-tenured employees earlier this week when Joe Krajniak passed away at the age of 83. 
A groundskeeper assistant, Krajniak worked with the Bears from 1988 up until his death Monday following a battle with cancer, both in full-time and part-time capacities over the years. 
"When I think of Joe, I think of steady and dependable," said Bears chairman George H. McCaskey. "He served the Bears organization long and well. He was a great friend of the family. It might seem like a small thing, but one of the things I appreciated the most was he kept the birdfeeders around the Halas Hall campus full, and I think that was his tip of the fedora to Ed McCaskey, who loved the songbirds. I always thought it was a nice touch that Joe kept that memory alive for us." 
With his trademark pipe always in his mouth, Krajniak was responsible for the Halas Hall grounds, which included landscaping, field maintenance, snow removal, gardening and more.
"He was a calming influence on everybody," said longtime Bears head groundskeeper Ken Mrock. "He was very consistent. He took pride in everything that he touched, especially the Halas Hall property, Halas Hall campus, taking care of everything from the beautiful gardens we have to the wildlife and the birds, building bird houses. 
"He took great pride in the property that he was a steward of. We always say that the first thing people see when they come to Halas Hall is the landscape, and he wanted that first impression to be a good one and a lasting one."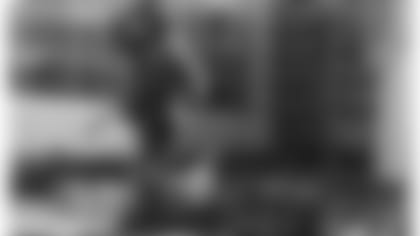 On game days at Soldier Field, Krajniak would help set up the bench area, ensuring that it was ready for players, coaches and staff. 
"He took ownership of all that and felt a personal responsibility to everyone that was going to be in that area," Mrock said. 
"He was a mentor to many people. People would come to him for advice on certain things. He was someone you could count on all the time. He was there as long as you'd need him. He meant a lot of things to a lot of people. He rubbed off on a lot of people in such a positive manner that it was uplifting for everybody." 
Krajniak grew up in Chicago and attended Weber High School. He worked as a crane operator for the Chicago Park District for about 25 years before joining the Bears. He loved playing poker and golf with friends and cooking for his family. 
The beloved husband of the late Ellen, Krajniak was the father of four daughters (Susanna, Kathy, Linda and Laura), grandfather of 12 (Nolan, Jessica, Zachary, Carly, Eric, Cailin, Joseph, Vanessa, Ryan, Marcus, John and Ellen), and great-grandfather of four (Mason, Kamron, Alexander and Aiden). 
"I think he would want to be remembered as a great friend to many and a great father and grandfather," said his daughter, Kathy. "He loved a lot of people and he got as much love back as he gave."
Kathy will always fondly remember going to her father's house for dinner twice a week. 
"He was a great cook," she said. "He hosted many, many parties. All the holidays were at his house. He was always the cook. He was just so generous to everybody and welcoming. He was a surrogate to a lot of people. My kids have some friends that didn't have grandfathers—maybe they had passed—and they always called him grandpa. 
"Even when he was sick, I was going to Florida to see my son and he was mad that I didn't let him drive me to the airport. He still was doing things for people when he wasn't feeling well." 
Visitation for Krajniak will be held from 4-9 p.m. Friday at Olson Burke Sullivan Funeral & Cremation Center, 6467 N. Northwest Highway in Chicago. Mass will be conducted at 11:30 a.m. Saturday at St. Elizabeth of the Trinity Church, 6020 W. Ardmore Ave. in Chicago.