When Tayo Fabuluje arrived at Halas Hall Monday, the Bears tackle headed downstairs toward the rookie locker room. It's the same journey he's made every day he's come to work since being selected in the sixth round of the NFL Draft in May.
But with the Bears having reduced their roster to 53 entering the regular season this week, the team's rookies have been relocated to the main locker room, joining their veteran teammates.
"It was weird because you get in a routine," Fabuluje said. "I started to walk back down there and one of the trainers grabbed me and said, 'You know you're in the big locker room now, right?' I forgot. But it's a good feeling to be in here with everybody instead of being isolated down there.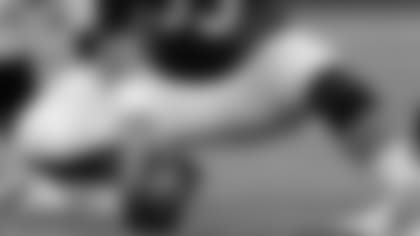 Center Hroniss Grasu was drafted in the third round out of Oregon.
"It feels like it's something you earned. It's a good feeling just being here with all the guys instead of having two different locker rooms and having that rookie/veteran separation."
While the rookies who survived final cuts are elated to move up to the main locker room, they'll no doubt remember their time in what some refer to as "the dungeon" with fondness.
"It's an honor to be up in this locker room now," said center Hroniss Grasu, a third-round draft pick from Oregon. "But [the basement] locker room has a special place in my heart. It's where it all started and as a rookie class we bonded in there.
"What was so special about it was that we were all going through the same thing and we were all going through it together. We were all helping each other out down there, talking to each other and just going through it together and getting better from that."
During most of the offseason program, the Bears roster included a diverse group of 20-25 rookies who spent hours and days together in their cramped basement locker room.
"We kind of became a band of brothers down there," Fabuluje said. "We became a really tight-knit group down there because we all knew we were all here for the same reason.
"To see a lot of the guys who were in there in the beginning gradually disappear was hard because you build these good relationships with these people and then the next day out of nowhere they're gone. But we were a tight-knit group down there and it was good."
Fabuluje and Grasu are two of 10 rookies on the Bears' 53-man roster. The others are safety Adrian Amos, cornerback Bryce Callahan, defensive tackle Eddie Goldman, safety Jonathan Anderson, running back Jeremy Langford, tight end Khari Lee, receiver Cameron Meredith and linebacker John Timu.
The move for the rookies up to the main locker room has been smooth thanks to their veteran teammates.
"A lot of people think the veterans give young guys a hard time," Fabuluje said. "I don't know what it's like anywhere else, but I know here our veterans are real humble and they're really inviting and they help us make the transition because they've been in our shoes before. Somebody did it for them and they're doing it for us."