The Bears added a familiar weapon to quarterback Mitchell Trubisky's arsenal Wednesday, promoting receiver Tanner Gentry from the practice squad to the 53-man roster.
The two rookies developed a rapport beginning during offseason practices and continuing through training camp and preseason games. Their cohesiveness was evident in an exhibition contest Aug. 27 against the Titans when they connected for a 45-yard touchdown pass.
"Tanner's a great player," Trubisky said Wednesday after practice. "He knows how to go up and get the ball. He's a good vertical threat and has shown what he can do. They've given him a great opportunity this week just bringing him up. We've developed good chemistry ever since rookie minicamp just throwing with each other and being on the same page.
"We just need to continue to get better chemistry with the whole group just moving forward and being on the same page. The more reps we can get, the better we'll be as a group."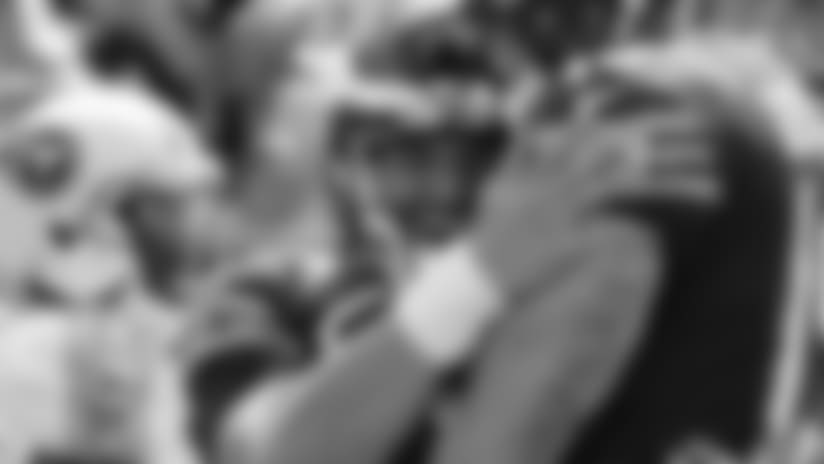 Bears wide receiver Tanner Gentry celebrates with quarterback Mitchell Trubisky in a preseason game.


Gentry has bounced between the Bears practice squad and active roster during the first five weeks of the season. The undrafted free agent from Wyoming has appeared in one game, catching two passes for 27 yards in a Week 2 loss to the Buccaneers in Tampa.
"He's a smart guy," said coach John Fox. "He knows the offense. He understands it. He's been here since the offseason. He's a young guy. He wasn't a drafted player. But he keeps catching our eye. He's been productive. We wanted to give him that opportunity."
To make room on the roster for Gentry, the Bears released fifth-year receiver Deonte Thompson, who appeared in the first five games this season with three starts, catching 11 passes for 125 yards and one touchdown while also averaging 20.8 yards on 11 kickoff returns.
"It's never easy, especially when you've spent time with a guy like Deonte," Fox said. "Good teammate, good guy. None of this is very easy. Those aren't easy things for anybody, both him and us. We just felt like it was time to get Tanner an opportunity and that was the move we made."
Welcome back: When John Timu exited last Monday night's game against the Vikings with a knee injury, the Bears were down four inside linebackers. Jerrell Freeman (pectoral) is on injured reserve, Nick Kwiatkoski (pectoral) has missed the last three games and Danny Trevathan was serving a one-game suspension for an illegal hit on Packers receiver Davante Adams.
There was good news Wednesday, however, as Trevathan and Kwiatkoski returned to practice, although Kwiatkoski only participated on a limited basis.
"Those are both guys that had started," Fox said. "Danny coming off a suspension, it was good to get him back. Losing John Timu was a little bit of a blow. We were down to two inside linebackers in that game. Getting guys back that you're familiar with, have a good grasp of what you're doing and are athletic is important."
One of the two inside linebackers left standing Monday night was Christian Jones, who led the Bears with nine tackles and also recorded a quarterback hit and pass breakup.
Asked about Jones' outing, Fox said: "Some good, some bad like all of us. But he's capable. He's been out there before. We have confidence in him. He does a really good job on fourth down. He's been in a lot of our sub defenses. On short notice I thought he did a good job."
Big emphasis: As the Bears prepare to visit the Ravens Sunday, eliminating penalties remains a major focus. The offense drew six flags in the first 20 minutes of Monday night's loss, erasing Jordan Howard's 42-yard touchdown run and setting up countless third-and-long situations.
The Bears' seven first-half possessions resulted in six punts and a turnover. On the six drives that ended with punts, the offense faced third-down plays needing 20, 12, 12, 15, 13 and 20 yards for a first down.