The Bears on Monday signed five players who participated in their rookie minicamp this past weekend on a tryout basis: receiver Matt Fleming, offensive linemen Jeremi Hall and Matt McCants, and defensive backs John Franklin III and Tyrin Holloway.
To make room on their roster, the Bears waived offensive linemen Travis Averill and Cameron Lee and linebackers Howard Jones and Nyles Morgan.
Fleming grew up in Chicago, attending Simeon High School and Benedictine College in Lisle, where he caught 45 passes for 731 yards and 10 touchdowns and averaged 20 yards on six kickoff returns last season.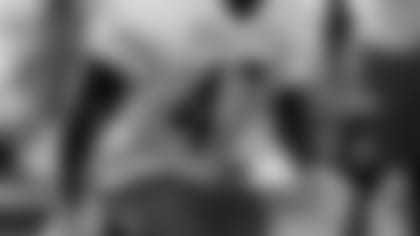 Defensive back John Franklin III participates in drills during rookie minicamp.


Asked Sunday if there were any tryout players who caught his eye in rookie minicamp, Bears coach Matt Nagy said: "There's a few guys. I think the one kid that stood out was Matt Fleming. Not a real big kid, but he made his assignments, did his job, made some nice catches."
Hall started all 25 games at left guard for South Florida the past two seasons and was named first-team All-American Athletic Conference last year as a senior.
McCants was among eight unsigned veterans to participate in rookie minicamp. He has appeared in four NFL games, two with the Raiders and two with the Bears in 2016. He was selected by the Giants in the sixth round of the 2012 draft out of Alabama-Birmingham and spent his rookie season on their practice squad. He also has spent time with the Browns.
Franklin played collegiately at Florida State (2013-14), East Mississippi Community College (2015), Auburn (2016) and Florida Atlantic (2017), lining up as a quarterback and later a receiver. But the Bears view him as a defensive back and potential kickoff returner. Franklin and the rest of the East Mississippi team were featured in the Netflix series "Last Chance U."
Holloway registered 21 tackles and three interceptions last year at Western Illinois. He played his first four seasons at Liberty, where he compiled 103 tackles, seven interceptions and 12 pass breakups while appearing in 36 games with 22 starts.