Dan Hampton lined up alongside Steve McMichael on the Bears defensive line for a decade from 1981-90, helping the team win six division championships and Super Bowl XX to cap the 1985 season.
Since 2013, the two close friends have displayed their musical talents side-by-side in the Chicago 6, a band that also includes another key member of the 1980s Bears, former linebacker Otis Wilson.
Unfortunately, McMichael can no longer jam on stage with his buddies because he's suffering from Amyotrophic Lateral Sclerosis (ALS), also known as Lou Gehrig's disease. Sadly, "Mongo" has lost the use of his arms and hands and his legs are weakened, confining him to a wheelchair.
ALS is a neurodegenerative neuromuscular disease that results in the progressive loss of motor neurons that control voluntary muscles. The affected muscles are responsible for chewing food, speaking and walking. Motor neuron loss continues until the ability to eat, speak, move and finally breathe is lost.
Instead of playing with McMichael, Hampton will play for him this Saturday when the Chicago 6 and two other bands hold a fundraising concert for the former Bears defensive tackle dubbed "MongoPalooza" from 3-8 p.m. at Mongo McMichaels, a bar that McMichael owns at 1101 North Independence Boulevard in Romeoville.
"Steve was a huge part of the band for eight years," Hampton said. "He can no longer be a part of it. So we just felt compelled to pay a tribute to him—with heavy hearts missing him and playing for him."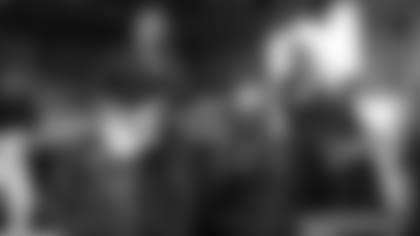 McMichael is expected to attend the family-friendly event. The Chicago 6 is slated to begin playing at 4 p.m., followed by the Dancing Noodles and Prizefighter. There's no entry fee, but the suggested donation is $20 per person. Funds raised will help defray the mounting costs of McMichael's daily care and medical needs.
McMichael was a warrior on the field for the Bears, a tough-as-nails defensive tackle who played in a franchise-record 191 consecutive games in 13 seasons from 1981-93. He ranks second in Bears history behind Hall of Famer Richard Dent with 92.5 career sacks, an impressive total for an interior lineman.
Individually, McMichael was a two-time first-team All-Pro, a three-time second-team All-Pro and a two-time Pro Bowler. He was named the 19th best player in Bears history in 2019 by writers Don Pierson and Dan Pompei in the Chicago Bears Centennial Scrapbook—the second highest slot for a non-Hall of Famer.