Before Robert Tonyan knew the names of his family members, the McHenry, Ill. native could recite the Chicago Bulls' 1996-97 starting lineup. As a three-year-old, Tonyan would confidently name Michael Jordan, Scottie Pippen, Dennis Rodman, Luc Longley and Ron Harper, an accomplishment his mother would often boast as her "party trick."
Growing up in the Chicagoland area, Tonyan was raised as an avid Bulls, Blackhawks, White Sox and Bears fan, and remains so now at 28 years old.
The new Bears tight end, who signed with the club March 17, holds endless memories of watching games at Soldier Field with his family. Tonyan remembers his first game at the stadium when he was five years old, sporting a full denim outfit and sitting "way up top" at the 50-yard line. The Bears faced the Lions, and on the way out of Soldier Field, Tonyan picked up a blue and orange foam football; it's a memory he can still picture today.
When Tonyan arrived at Halas Hall to sign his one-year contract a few weeks ago, he was immediately met with a positive energy. While it wasn't his first time at the practice facility in Lake Forest, having come in 2017 for the Bears' local pro day, walking through those doors with his father as a Chicago Bear felt like it was meant to be.
"It kind of feels like a full circle," Tonyan said, "just going through the hallways and seeing the people and the history that, I was not a part of, but that I was seeking and loved. The history of Chicago itself as a city, but then again, the Chicago Bears. I mean Gale Sayers, Brian Urlacher, Walter Payton.
"I mean, there's places that have a lot of history, and well deserved, but this just obviously hits home. No pun intended, but it hits home for sure."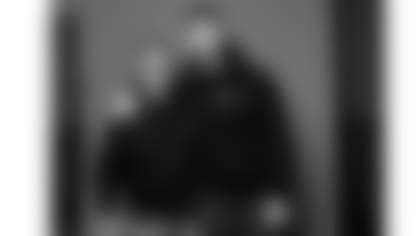 Calling Illinois home is something Tonyan has always taken great pride in and while it wasn't intentional, he never really left the Midwest either. 
After playing high school football at McHenry East High School, Tonyan spent four years at Indiana State. While he started his collegiate career as a quarterback – the position he earned All-State nominations at in high school – the Sycamores transitioned him to a receiver for his final three seasons. 
Tonyan went undrafted out of college in 2017, but remained close to home, eventually landing in Green Bay, where he spent the first five seasons of his NFL career. 
Now back in his home state, Tonyan gets to reunite with family, childhood friends and the place that founded his "Midwest mentality."
"I do take pride in being from the Midwest and being a hard-working person," Tonyan said. "Just get it how you can get it and the worker's mentality, hard-hat mentality. My family has a construction general contracting business in this area, just having pride in the name and building something. My family, physically, we're building things. And now me, I'm just trying to build my journey, my career, my personal destiny."
While Tonyan spent the last several years on the opposite side of the Bears-Packers rivalry, it never changed his affinity for his hometown team. Playing for the team he grew up rooting against wasn't what Tonyan envisioned as a young kid, but the Packers gave him an opportunity in the league and forged his career as a pro-level tight end.
Tonyan's time in Green Bay also allowed him to compete at Soldier Field once every season. The first game he ever played at the stadium was on Dec. 16, 2018, when Tonyan made the opening kickoff tackle against the Bears.
"It was super cool," Tonyan said. "I had a teammate of mine also from the Chicagoland area, Jake Kumerow, and we were both undrafted free agents on Green Bay. We were running down on kickoff together, just two Chicago boys just running down on kickoff for the Packers. And I made the opening tackle, and we just went nuts, like headbutting, it was so cool. That was kind the start of the journey."
As a kid, Tonyan loved the trips down to Soldier Field, when he could admire the city's skyscrapers, Lake Michigan and The Art Institute of Chicago before running around the nearby park then the stadium.
Heading to the stadium as an opponent the last five years has been different, but starting this September, Tonyan's trips to Soldier Field will be filled with the same emotions he felt years ago, knowing his friends with season tickets or his family members will get to solely root for the Bears.
"We grew up watching the Bears every Sunday," Tonyan said, "going outside, doing yard work, come in and have lunch, watch the Bears game, go outside and play football in the yard. Like those are the memories.
"Having the Bears helmet and Bears jersey on in the yard, and now actually getting to do it—it is a lifelong dream, that's for sure. And this is just the start. I'm just excited to kind of have a fresh start and exceed any expectations that people may or may not have on me."
Take a look at new Bears tight end Robert Tonyan in action. Tonyan, 28, spent his first five NFL seasons with the Packers, accumulating 1,437 receiving yards on 137 receptions with 17 touchdowns.