Brian Urlacher and Lance Briggs are tied for the Bears' lead with 21 tackles. But the perennial Pro Bowl linebackers agree that the defense's success so far this season starts up front.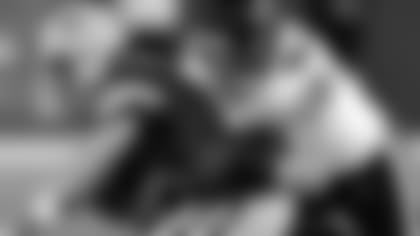 The Bears defense has registered 14 total sacks this season.
"Anytime you can play zone coverage and get pressure with four, you get more sets of eyes on the quarterback and they can break on the football," Urlacher said. "I think that's why we've gotten the picks, and the sacks are coming. And even when we're not getting sacks, we're getting pressure."
"The one thing that stands out is our defensive line, our pass rush," Briggs said. "We have been getting after a lot of quarterbacks. It's hard to be successful offensively if the defensive line is getting the pressure they are getting."
The line has accounted for 13 of the Bears' league-leading 14 sacks, with seven different linemen contributing to that total: Henry Melton (3), Julius Peppers (2½), Israel Idonije (2½), Shea McClellin (2), Corey Wootton (1½), Amobi Okoye (1) and Stephen Paea (½).
"Offenses are all about timing," Briggs said. "If our [line] is getting up to that second level and moving quarterbacks—either getting them on the ground or making them throw the ball before they want to—that is glaring for me. That's the one thing that stands out."
The Bears will be challenged Monday night in Dallas by Cowboys quarterback Tony Romo, an elusive and athletic three-time Pro Bowler who excels at keeping plays alive.
"He can get out of the pocket really quick and create more time," Briggs said. "You've got to be locked in on your job. You've got to be disciplined. When he starts to scramble, you have to find a receiver and [cover] him and the d-line has to keep him in the pocket.
"We have to do a good job of keeping him in the pocket, not allowing him to create more time because if you get enough time on any defense, you will find a hole."
Romo entered Week 4 ranked 14th in the NFL with an 89.3 passer rating, having completed 64.8 percent of his passes for 841 yards with four touchdowns and three interceptions. The former Eastern Illinois standout has been sacked seven times while throwing 108 passes.
With five sacks against the Packers and six versus the Rams, the Bears have recorded at least five sacks in back-to-back games for the first time since 2001. Their 14 sacks are their most in the first three games of a season since 1987.
The Bears also rank second in the NFL with nine takeaways and second in third-down defense, allowing opponents to convert just 9 of 37 opportunities (24.3 percent).
Romo's favorite targets are receivers Miles Austin (14 receptions for 243 yards and 2 TDs), Kevin Ogletree (14-197-2) and Dez Bryant (13-164-0). The Cowboys' rushing attack is fueled by DeMarco Murray, who has rushed for 213 yards and 1 TD on 50 carries.
"Murray has been a guy who has played well," Briggs said. "He's fast, he's tough. He gets his head in there in between the tackles. We've got to be sharp. As long as we are sharp, where everyone gets their hat in a gap and plays disciplined football, we will be all right."
"He's good, he's big, he's fast, he's shifty," Urlacher said. "I watched him play a lot in college at Oklahoma. He's really good. Same way in the NFL; just a big running back. He gets a lot of yards making people miss."
The Bears defense ranks sixth in the NFL in yards allowed, and is No. 1 in the Aikman Ratings, which factor in several key statistical categories.
Although veterans Briggs, Urlacher, Peppers and Charles Tillman still form the core of the defense, others such as Idonije, Melton, McClellin, Tim Jennings and Major Wright all have made key contributions.
"We have a lot of good players on defense," Urlacher said. "I think that's evident. There are not just three or four guys, or one or two like there's been in the past. There are a lot of guys out there making plays. It's a good situation to be in when you've got a bunch of guys who are doing what they're doing."