Former Bears star cornerback Charles "Peanut" Tillman enjoyed a special weekend, highlighted by Saturday's induction into the Louisiana Sports Hall of Fame.
Before he was selected by the Bears in the second round of the 2003 draft, Tillman was a four-year starter at the University of Louisiana at Lafayette, where he recorded 284 tackles, 12 interceptions, seven fumble recoveries and three blocked punts. He also excelled as a student, earning a criminal justice degree in three and a half years.
"I am extremely grateful and honored to represent the state of Louisiana and join a distinguished group of individuals," Tillman told ChicagoBears.com.
Tillman is part of the Louisiana Sports Hall of Fame's Class of 2020, which was finally enshrined Saturday after its ceremonies were delayed one year due to COVID-19. Other members of the class include former NBA player Kerry Kittles, sportscaster Tim Brando and longtime member of the Harlem Globetrotters "Sweet Lou" Dunbar.
The Louisiana Sports Hall of Fame was founded in 1958 and has been located in the downtown historic district of Natchitoches, La., since 2013. Its 256 members include Pro Football Hall of Famers Terry Bradshaw, Peyton Manning, Marshall Faulk and former Bears general manager Jim Finks, as well as former Bears players Ken Kavanaugh, Richie Petitbon and Roosevelt Taylor.
Tillman was previously inducted into the University of Louisiana at Lafayette's Hall of Fame in 2012 and had his No. 5 jersey retired in 2014 during a ceremony at halftime of a Rajun' Cajuns game against Appalachian State.
"I'm in love with my university," Tillman said at Saturday's induction ceremony at the Natchitoches Events Center. "I love what they do. They gave me an opportunity to showcase my talent. I wasn't highly recruited out of high school. I don't know why. Somehow I got on UL's list and I had four amazing years, and I'm just trying to be an ambassador for the University of Louisiana."
Tillman attended Saturday night's ceremony with his wife, Jackie, and their four children. He participated in other events this past weekend in Louisiana with the rest of the Class of 2020 that included a youth sports camp and a bowling outing.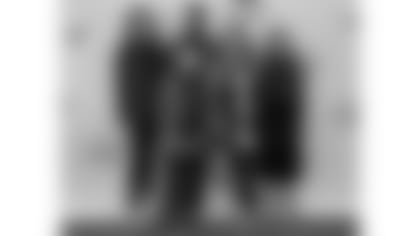 Tillman played 12 seasons with the Bears from 2003-14. He was part of a dominant defense that helped the Bears win three NFC North titles and one conference championship. He set team records that still stand with nine defensive touchdowns, eight interception return TDs and 675 interception return yards. His 36 interceptions are the most by a cornerback in team history and third most overall behind safeties Gary Fencik (38) and Petitbon (37).
Known for smacking the ball away from opponents, a technique dubbed the "Peanut Punch," Tillman forced 42 fumbles in 12 seasons, including a career-high 10 in 2012 when he was voted to his second straight Pro Bowl.
In honor of "National Peanut Day" Tuesday, revisit senior writer Larry Mayer's ranking of Charles "Peanut" Tillman's 10 most memorable moments with the Bears.