After conducting a joint practice with the Colts at their training facility in Indianapolis for the second straight day, Bears coach John Fox raved about the sessions.
"I thought all-in-all it was a great couple days of practice," Fox said Thursday. "I thought today was another one as well. It went probably better than any time I've ever done this against an opponent."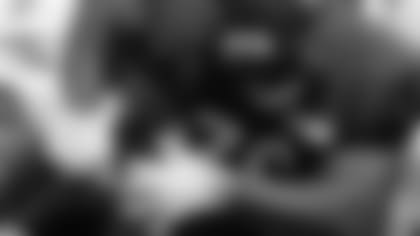 Eddie Goldman gets by the O-line.
The two practices, held in advance of Saturday night's preseason game at Lucas Oil Stadium, gave the Bears a chance to work against an opponent that won the AFC South with an 11-5 record and reached the AFC Championship Game last season.
"I think we got better," said outside linebacker Pernell McPhee. "We got an opportunity to see a different offensive scheme and we got an opportunity to play against a great team that has won before."
The Bears defense improved from Wednesday's practice, outperforming star quarterback Andrew Luck and the Colts No. 1 offense for most of Thursday's workout.
"I think it was a little bit better for us today," said safety Antrel Rolle. "We were able to get our hands on a lot more balls, break up a lot of plays. I think we definitely improved today."
"I think we practiced good," McPhee added. "We had the attitude of, 'We must come out and attack and try to win every battle on every play.' All the guys had that focus and that's what we came out and did."
The Bears defense no doubt will benefit from working against Luck, who is arguably the NFL's top young quarterback. The No. 1 overall pick in the 2012 NFL Draft has been voted to the Pro Bowl in each of his three seasons with the Colts and led the NFL with 40 touchdown passes last season.
"I love going against Luck," Rolle said. "He's one of the best quarterbacks in the league. He's very wise beyond his age. He runs a very efficient offense. He's very great at looking off defenders and he's very poised with his decision-making. He's a hell of a quarterback."
"Andrew Luck is as good as you've got in the league," added cornerback Tim Jennings. "It's a good offense to get us ready for the season. It was good working in Indy."
The Colts outplayed the Bears decidedly in four two-minute sessions to end Thursday's practice, scoring touchdowns with their first and second offenses and intercepting Jay Cutler and Jimmy Clausen passes.
Luck completed five passes to four different receivers, capped by a touchdown to T.Y. Hilton.
"You've got to be on point with everything because [Luck] is elite," McPhee said. "He's one of the top-five quarterbacks in the NFL right now. You've got to have good leverage on your rush. You can't lose contain too early. You've got to be focusing. You've got to win the one-on-one to get to him and try to frustrate him. He's a great player. You just have to be disciplined."
The Bears weren't very disciplined when they were drawn offside by Luck's hard count during the two-minute drill.
"He's very smart," McPhee said. "It was third-and-one and they got an illegal formation [penalty] and got backed up [five yards]. I don't think the coach [called for a] hard count and he [used a] hard count and the whole defense jumped and he got his third-and-one back."
It was a sour end to a fairly successful day for the Bears defense.
"We started off fast," Jennings said. "We were real pleased how we started off practice. We didn't finish the way we wanted to finish, but that takes some time. Indianapolis is a good team, especially in the two-minute drill they're good coming back. We started off strong, but we didn't finish strong enough and that's an area we can work on."
Bears players who did not practice Thursday included receivers Alshon Jeffery (calf) and Kevin White (shin), cornerback Tracy Porter (hamstring), running back Daniel Thomas (knee), tight end Chris Pantale (illness) and tackle Jason Weaver. Outside linebacker Jared Allen was given a veteran's day off.
McPhee (knee), defensive lineman Brandon Dunn (quad) and right tackle Jordan Mills (calf) exited early with injuries. With Mills out, Charles Leno Jr. Jr. worked with the No. 1 offense at right tackle.
"He's been playing with the twos all camp, performing well," Fox said. "When Jordan Mills went out, he was the logical guy to stick there."