As an unheralded second-year pro, safety Anthony Walters looks at every preseason game as another chance to prove he deserves a spot on the Bears' 53-man roster.
"I came in undrafted, so you never know what's going to happen," Walters said Monday. "Every opportunity I have I try to take advantage of and I've had a couple since I've been here."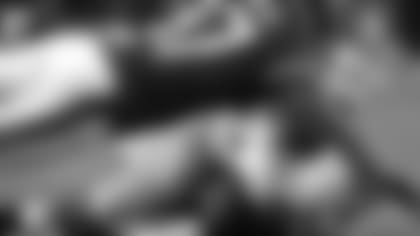 Anthony Walters makes a tackle Aug. 18 during the Bears' 33-31 preseason win over the Redskins.
Walters joined the Bears as an undrafted free agent from Delaware in 2011. After spending the first five weeks of the season on the practice squad, he was promoted to the 53-man roster. The 6-1, 207-pounder recorded one special teams tackle in four games before being placed on injured reserve with a hamstring injury.
Walters appears to be the fourth safety on the depth chart behind starters Chris Conte and Major Wright and top reserve Craig Steltz. Rookie Brandon Hardin was placed on injured reserve Sunday, seemingly enhancing Walters' odds of earning a roster spot. But with final cuts looming Friday, he isn't planning on buying green bananas.
"They haven't really said anything about it," Walters said. "I don't have an apartment yet, I'll tell you that. I'm just still living where they pay for it. I'm not really sure."
Walters preserved last Friday night's preseason win over the Giants by deflecting a David Carr pass to teammate Isaiah Frey, who intercepted the ball in the end zone with 1:06 remaining. Walters has also been contributing on special teams, a necessity for most non-starters.
"If you want to make the roster, it'll be through special teams," Walters said. "I learned that last year, and right now special teams are just as important as defense."
A leg up: Speaking to the media Monday for the first time since Friday's preseason win over the Giants, special teams coordinator Dave Toub said that Ryan Quigley exceeded expectations. The undrafted rookie handled all punting chores in place of injured veteran Adam Podlesh.
"[Quigley] did a really good job," Toub said. "We just allowed him to punt it away and he relaxed and he carried over what we have been seeing in practice onto the field. His first two games [were] not so good. That third game, he was really good."
After averaging 39.4 yards on five punts in the first two preseason games, Quigley averaged 43.6 yards while placing three of seven punts inside-the-20 against the Giants. The Boston College product will get another opportunity to impress in Thursday night's preseason finale in Cleveland.
"Right now he is our guy," Toub said. "He is our punter. He is the only one we have left. We're counting on him."
Podlesh, meanwhile, continues to recover from the hip flexor injury he sustained Aug. 18 against the Redskins. Toub said the veteran is "doing a lot better," and hopes he will be able to return for the Sept. 9 season opener versus the Colts. ](http://bit.ly/U4CFJv)More work: After fielding only one punt in the preseason each of the last two years, Devin Hester has caught one punt in each of the Bears' first three preseason games this summer. (He has returns of two and six yards along with one fair catch.)
"That is something a little different than what we have done in the past as per his request," Toub said. "He wanted to get a little more touches so we think he is going to be a lot more ready for the season than other years."
Asked if the addition of Pro Bowl return specialist Eric Weems has motivated Hester, Toub said: "No, not really. [Hester] is a veteran. He does not need a lot of people to motivate him. He is going to give you everything he's got all the time."
On the mend: Defensive tackle Stephen Paea remained sidelined Monday, a little more than two weeks after he sustained a sprained ankle in practice. The second-year pro had been performing very well while working with the No. 1 defense in training camp before he was injured.
"It's tough because he was really flashing, doing those things," said defensive coordinator Rod Marinelli. "But I know what he's about. Hopefully between OTAs and offseason and training camp, you develop those base fundamentals and you don't start at the same place.
"Hopefully you start at a higher level, but you still go back to the basics with steps and pad level and all those things. He's an intense guy and a very passionate guy. That's where we're at; we just have to bring him along again."