The Bears open the 2022 season by hosting the San Francisco 49ers Sunday at Soldier Field. Here's how you can watch and listen to the contest, which kicks off at noon (CT).
The game will be televised regionally on Fox with Joe Davis (play-by-play) and Daryl Johnston (analyst).
According to 506sports.com, the Bears-49ers game will be broadcast in the red parts of the map below.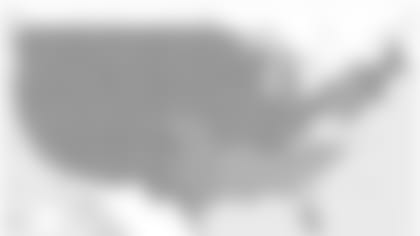 The game can be heard locally on WBBM Newsradio 780 AM and 105.9 FM, with Jeff Joniak (play-by-play), former Bears guard Tom Thayer (analyst) and Mark Grote (sideline reporter) on the call.
A Spanish-language broadcast will also be available on TUDN Deportes Radio 1200 AM and Latino Mix 93.5 FM featuring the broadcast team of Omar Ramos (play-by-play) and Miguel Esparza (analyst).
Two brand new games can be played by fans anywhere as they follow the action during home and away contests:
• In Risk It brought to you by BetRivers, fans may wager a bank of 500 points on a series of predictions, such as 'How will the Bears score their first points?' The fan with the highest score each week wins a customized Bears jersey plus $250 in free bets at il.BetRivers.com.
• In Chicago Bears Football Bingo brought to you by PNC, fans follow along to see game scenarios checked off of their digital bingo cards. The first 20 fans with a regular bingo will win a $20 vouchers to the online Bears Pro Shop. Ten fans with the No. 1 pattern on their card will earn a $50 voucher. And the first fan with a "C" pattern on their bingo card will receive a Bears autographed item.
Along with Risk It and Bears Bingo, fans can also interact with traditional Soldier Field video board features in the app from the stadium or anywhere else. The Dunkin' Race, which is held in the second quarter, and the Buona Beef Helmet Shuffle, which will take place in the second half. The Dunkin' Race will take place during both home and road contests, while the Buona Beef Helmet Shuffle can be played during all nine home games at Soldier Field.
The pregame show on WBBM Newsradio 780 AM and 105.9 FM will begin at 9:00 a.m.
Bears Gameday Live brought to you by Advocate Health Care will start at 10:30 a.m. on Sunday and can be seen in the Chicago area on Fox 32. It will also be streamed on the Chicago Bears Official App brought to you by Verizon.
Bears Postgame Live brought to you by United Airlines will air on My50 Chicago and stream on the Chicago Bears Official App brought to you by Verizon immediately following the end of the game.
Game Pass International (outside the U.S., Canada and China)
Watch every game live and on-demand, plus RedZone and NFL Network! Sign up here.
*Blackout restrictions apply in the United Kingdom/Ireland during the regular season.