The Bears (3-12) will look to finish a highly disappointing season on a positive note in Sunday's finale against the Vikings (7-8) in Minnesota. Here are four storylines to watch in the game:
(1) Making his sixth straight start, will quarterback Matt Barkley eliminate the interceptions that have plagued him the past two weeks?
After not throwing an interception in impressive performances against the 49ers and Lions, Barkley has been bitten repeatedly by the turnover bug. In back-to-back losses to the Packers and Redskins, the 26-year-old threw eight interceptions and lost a fumble. After watching tape of his five interception-outing against Washington, Barkley vowed to learn from his mistakes, saying: "The big picture was just when it doesn't feel right, it's not right. Don't try to force things or try to make a big play out of nothing. When the timing is off, don't make a bad play worse."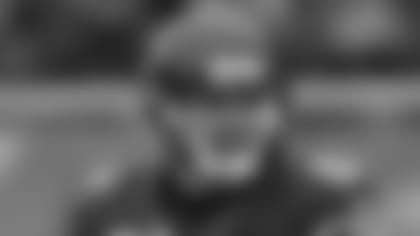 Matt Barkley has appeared in six games with five starts this season, completing 119 of 202 passes for 1,486 yards with eight touchdowns, 12 interceptions and a 70.3 passer rating.


Barkley has appeared in six games with five starts this season, completing 119 of 202 passes for 1,486 yards with eight touchdowns, 12 interceptions and a 70.3 passer rating. "I think he's proven that he deserves to be at this level," said offensive coordinator Dowell Loggains. "He's done a really good job considering everything. Considering when he came in, he's been productive, moved the offense. Obviously there are a lot of things we'd like to correct and he will get corrected on his own, but he's done a good job."
(2) Will the Bears defense rebound from sub-par outings against the Packers and Redskins?
The Bears have allowed 71 points in their last two games, the most in back-to-back contests since they permitted 74 in losses to the Cardinals and Seahawks in Weeks 2 and 3 last season. The defense has been gashed on the ground, allowing 226 and 208 yards rushing the past two weeks after averaging 107.1 through the first 13 games. Big plays have led to the demise; after not permitting a run over 30 yards in the first 13 contests they allowed rushes of 61, 61, 42 and 36 yards against the Packers and Redskins.
The good news Sunday is that the Vikings rank last in the NFL in rushing and will play without star running back Adrian Peterson, who has been ruled out of Sunday's finale with knee and groin injuries. But Minnesota boasts a dangerous passing attack piloted by quarterback Sam Bradford, who leads the NFL with a 71.3 completion percentage and ranks second behind the Patriots' Tom Brady with a 0.8 interception percentage, having been picked off just four times on 519 attempts. By comparison, Barkley threw five interceptions on 40 throws last Saturday against the Redskins.
(3) Will Jordan Howard set the Bears' single-season rookie rushing record?
A fifth-round draft pick who has emerged as the Bears' most pleasant surprise in a bleak season, Howard needs 61 yards on the ground Sunday to eclipse Matt Forte's team record for most yards by a rookie runner. With 1,178 yards, Howard is currently third behind Anthony Thomas (1,183 yards in 2001) and Forte (1,238 in 2008), who had 316 carries as a rookie compared to Howard's 229 entering Sunday's season finale.
While winning is always the No. 1 objective, it will be interesting to see how much the Bears feature Howard knowing that he's close to breaking Forte's record. Said coach John Fox: "We present things. We're aware of things. We use a lot of different things for motivation. I think it would be important to a lot of guys on the offense, especially up front. There's a lot of pride that goes into running the ball and having good results. I'd say it's pretty important, even though it's not the most important thing."
Barkley's recent struggles are another reason for the Bears to lean on Howard, who rushed for a season-high 153 yards and one touchdown on 26 carries in a 20-10 win over the Vikings Halloween night at Soldier Field.
(4) Can the Bears close the season with a win and avoid making the wrong kind of history?
The 2016 season will be a very disappointing one regardless of what happens Sunday in Minnesota. But a win would prevent the Bears from posting their worst record since the NFL expanded to 16 games in 1978 and their second worst mark in franchise history behind a 1-13 debacle in 1969. A victory would also keep them from recording their first winless season on the road since they went 0-7 in 1974 and their first 0-8 road mark in franchise history.