The Bears will look to record back-to-back wins for the first time since this season when they visit the Lions Sunday in Detroit. Here are four storylines to watch in the game:
(1) Will quarterback Matt Barkley perform as well in his first road start as he has the past two weeks in his first two NFL starts at Soldier Field?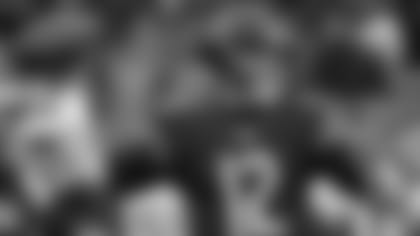 Bears quarterback Matt Barkley will face his most difficult test to date Sunday when the Bears visit the first-place Lions.


Barkley has played well in two games since replacing the injured Jay Cutler, displaying poise and confidence while throwing the ball with accuracy and efficiency. Two weeks ago, the former USC standout rebounded from two red-zone interceptions to nearly lead the Bears to a remarkable comeback win over the Titans. Barkley threw his first three NFL touchdown passes and would have had a fourth if Joshua Bellamy had not dropped the potential game-winner in the final minute. Playing a game in the snow for the first time last Sunday, Barkley engineered three straight TD drives and did not commit a turnover in a win over the 49ers.
Barkley will face an entirely different challenge Sunday, however, against the first-place Lions in front of a raucous Ford Field crowd. Last weekend in a 28-13 win in New Orleans, Detroit intercepted three Drew Brees passes and became the first team to keep the future Hall of Famer from throwing for a touchdown in 60 home games. Hopefully the Bears will be able to establish a run game to keep Barkley and the offense out of predictable passing situations.
(2) Will the Bears defense be able to contain red-hot Lions quarterback Matthew Stafford?
Since throwing two interceptions in a Week 4 loss to the Bears that dropped the Lions to 1-3, Stafford has passed for 14 touchdowns and one interception in leading Detroit to a 7-1 mark. The Bears registered six sacks last Sunday against the 49ers—their most in a game since 2012—and must generate consistent pressure on Stafford while not allowing him to escape the pocket.
The 28-year-old quarterback has already rushed for a career-high 178 yards on 30 carries this season. He's also using his feet to keep plays alive and throw downfield to receivers Golden Tate, Marvin Jones and Anquan Boldin and tight end Eric Ebron. Stafford has posted a quarterback rating of at least 72.9 in every game this season except his first meeting with the Bears Oct. 2 at Soldier Field when he was held to a pedestrian 56.8 rating.
(3) Will the Bears' young players—especially members of this year's draft class—continue to make key contributions and provide hope for the future?
No one at Halas Hall is happy about the Bears' 3-9 record. But the silver lining during a disappointing injury-ravaged season has been the emergence of several young players who should form the team's core next year and beyond. Last Sunday's win over the 49ers was a prime example as three members of this year's draft class played major roles.
First-round outside linebacker Leonard Floyd recorded two sacks, including one that resulted in a safety; fifth-round running back Jordan Howard tied a Bears rookie rushing record with his fifth 100-yard game of the season; and fourth-round inside linebacker Nick Kwiatkoski registered nine tackles, two tackles-for-loss and two pass breakups.
The Bears defense that held the 49ers without a touchdown featured four rookies and four second-year players in its starting lineup. "We had to take some steps back before we took steps forward," Fox said. "But I think it's very encouraging to have some young, good players that hopefully staying healthy will just get better."
(4) Will the Bears begin to build some late-season momentum and end a few negative trends?
A win over the Lions Sunday would give the Bears ...
A) Their first back-to-back victories since last Nov. 9 and 15 when they beat the Chargers and Rams, both on the road. Since their win in St. Louis, the Bears are 0-5 in games immediately following a victory, including 0-2 this season when they lost to the Colts after beating the Lions and fell to the Buccaneers after defeating the Vikings.
B) Their first road win of the season. The Bears went 5-3 away from home last year but are 0-6 away from home in 2016, losing in Houston, Dallas, Indianapolis, Green Bay, Tampa Bay and New York to the Giants. The Bears haven't gone winless on the road for an entire season since 1974 when they went 0-7 in Abe Gibron's final year as head coach.
C) A season sweep of the Lions for the first time since 2012. The season series has been swept 11 of the past 12 years with the Bears winning both games in 2005, 2006, 2008, 2009, 2010 and 2012 and the Lions capturing both meetings in 2007, 2011, 2013, 2014 and 2015.