FOXBORO, Mass. – After three joint practices in New England, the Bears and Patriots will square off in a preseason game Thursday night at Gillette Stadium. Here are four things to watch:
(1) Will the Bears offense show signs of improvement?
The only NFL team that failed to score in the first full week of the preseason, the Bears will look to make major strides against the Patriots after generating only 130 total yards and eight first downs in a 22-0 loss to the Broncos last Thursday night at Soldier Field.
The No. 1 offense, which produced just 13 yards and one first down on 10 plays over three possessions versus Denver, is expected to play the entire first half in New England.
"We're going to have a lot more success than last week," said receiver Kevin White. "Last week we had a couple plays and then we were out. We all wanted to play more. But I think we'll have the opportunity to get our feet wet and get in a rhythm."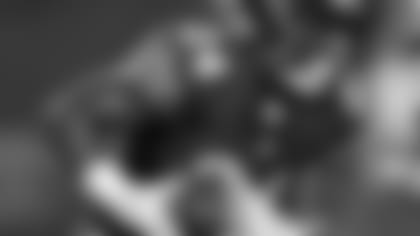 Bears fifth-round pick Jordan Howard during the first preseason game against Denver.


(2) Will the defense get off the field on third down?
The Bears added playmakers to their defense in free agency and the draft after ranking 29th in the NFL in third-down efficiency last season at 44.3 percent. But the unit continued to struggle to get off the field last week, allowing the Broncos to convert 6-of-14 third-down opportunities (43 percent).
Denver was 3-of-3 on third down on a 10-play, 76-yard game-opening touchdown drive as quarterback Mark Sanchez completed passes of 14 yards on third-and-seven, 13 yards on third-and-eight and 32 yards for a TD on third-and-nine.
The No. 1 defense did generate a takeaway on the Broncos' second possession when inside linebacker Jerrell Freeman intercepted a pass that was deflected by cornerback Bryce Callahan—but not before Denver had already picked up two first downs. A three-and-out would be a great way for the Bears defense to start tonight's game against the Patriots.
(3) Will Jordan Howard challenge for the No. 2 running back position?
The Bears are high on Howard and have been giving him expanded reps in practice to show what he can do. The rookie fifth-round pick from Indiana is listed fourth on the depth chart, but with a good performance against the Patriots, he could challenge veteran Jacquizz Rodgers for the No. 2 spot behind starter Jeremy Langford. Third-stringer Ka'Deem Carey has been limited in practice and may not play tonight after suffering a concussion in the preseason opener.
Coach John Fox believes in employing a backfield-by-committee, ideally relying on two backs with different styles. It appears that Howard's power running style would ideally complement Langford's speed and elusiveness, but the rookie must show in the preseason that he's capable of not only running with the ball but catching passes and picking up blitzes. Howard struggled with some drops in the Bears' joint practices with the Patriots.
(4) Will cornerback Jacoby Glenn stake a claim to a starting job?
Injuries to Kyle Fuller and Bryce Callahan have conspired to give Glenn a great opportunity to prove that he deserves a starting job at cornerback opposite veteran Tracy Porter. A second-year pro from Central Florida, Glenn has consistently broken up passes throughout training camp.
With Fuller back in Chicago getting his sore knee evaluated and Callahan unlikely to play tonight after being limited in practice, Glenn is expected to start. The 6-foot, 185-pounder is undersized, so it's crucial that he shows he can provide run support while also making plays on the ball.