The Bears (1-6) will look to snap a three-game losing streak Monday night when they host the Minnesota Vikings at Soldier Field. Here are four storylines to watch in the game:
(1) What type of impact will quarterback Jay Cutler have in his return to action?
After missing the last five games with a sprained right thumb, Cutler returns to make his 100th start since being acquired by the Bears in a 2009 blockbuster trade with the Denver Broncos. He takes over an offense that ranks last in the NFL in scoring and has compiled more than 17 points in just one of its first seven games this season. Replacement Brian Hoyer became the first quarterback in franchise history to pass for at least 300 yards in four straight games, but the Bears went 1-4 in Hoyer's five starts.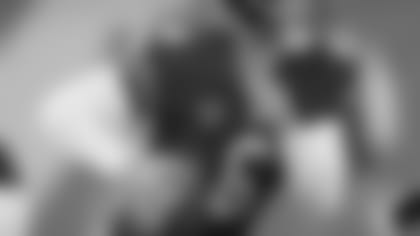 Quarterback Jay Cutler is expected to return and make his 100th start for the Bears.


"Brian did a great job when he was playing, but there's something about No. 6," outside linebacker Pernell McPhee said last week after Cutler was cleared to return. "Brian played great—no disrespect—but it's like we got new life with '6' coming back."
In a little less than two full games this season, Cutler has completed 28 of 46 passes for 373 yards with one touchdown, two interceptions and a 75.7 passer rating. He did an excellent job of protecting the ball last year when he reduced his interceptions from 18 in 2014 to 11 and must continue to do so Monday night against a Vikings team that leads the NFL with 16 takeaways.
(2) Will the Bears be able to generate a pass rush against Sam Bradford?
After a 5-0 start, the Vikings lost for the first time last Sunday when they allowed six sacks in falling to the Eagles 21-10. Minnesota coach Mike Zimmer called out his offensive line after the game, saying they were "soft" and "didn't block anybody." The line certainly will be motivated to rebound Monday night following those harsh comments, but the unit has lost both of its starting tackles, Ryan Kalil and Andre Smith, to injuries.
The Bears defense, meanwhile, is getting healthier. After missing two games with a calf injury, rookie outside linebacker Leonard Floyd recorded two sacks last Thursday night in Green Bay, one of which he turned into a touchdown by forcing and recovering an Aaron Rodgers fumble in the end zone. Veteran Pernell McPhee made his season debut in that game and likely will see expanded playing time with each passing week as the Bears ease him back into the lineup.
Generating consistent pressure on Bradford Monday night will be key for a Bears defense that has produced only seven takeaways in seven games this season.
(3) Will the Bears offense improve in the red zone?
The Bears have been plagued by the inability to score touchdowns inside their opponents' 20-yard line this season, regularly settling for field goals. They entered Week 8 tied for 16th in total yards but were last in scoring, averaging just below 16 points per game. During their current three-game losing streak, they've scored just two TDs on seven red-zone possessions.
"We just need to score more touchdowns," said receiver Alshon Jeffery, who has 32 receptions but no TDs this year. "When we get in the red zone we've got to score more touchdowns than field goals. That's the biggest thing."
That won't be easy Monday night against a Vikings defense that ranks No. 1 in the NFL in total yards. "They're a really good defense," Cutler said. "They're top five in about everything. They've been together for a while. They're relatively healthy and they're playing good football. They've shown a lot of different looks, especially on third downs. But we've got a group of guys, we've seen a lot of it and we kind of know how to attack it. It's just going to be about execution and guys doing exactly what we need to do."
(4) Can the Bears close a disappointing first half of the season with a win?
The Bears are in danger of falling to 1-7, which would match the worst eight-game start to a season in franchise history, which previously occurred in 1945, 1969 and 1997. Their eight game in 1997, by the way, came only one day after the Cleveland Indians lost Game 7 of the World Series (to the Florida Marlins). The Bears are in rebuilding mode, but no one inside or outside Halas Hall envisioned the team 1-7 heading into their bye week.