The Bears will look for their second straight win when they visit the Detroit Lions Saturday at Ford Field. Here are four storylines to watch in the game:
(1) Will rookie quarterback Mitchell Trubisky take another positive step?
The North Carolina product played his best game as a pro in last Sunday's 33-7 win over the Bengals, performing like the quarterback the Bears envisioned when they moved up one spot to select him with the second pick in the draft. Trubisky completed 25 of 32 passes for 271 yards with one touchdown and a 112.4 passer rating. He also scored his first NFL TD on a 4-yard run on a read-option play.
"I just feel like I've been getting better each week," Trubisky said. "I don't know about specific areas. But all I'm worried about is winning and getting better each day. I think it all starts with leadership and coming into the building, working hard, making sure I'm preparing the right way, walking around the building with a positive mindset, picking up the guys, making sure everyone's locked in at practice and then doing my job.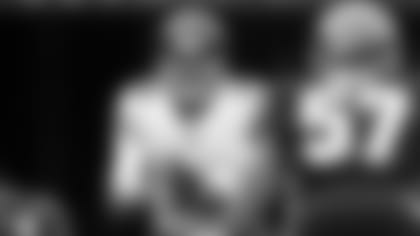 Bears quarterback Mitchell Trubisky prepares to take a snap against the Bengals.


"Great communication in the huddle, at the line of scrimmage. Then doing my footwork, putting the ball in the right spot and doing the little things on a daily basis. I think that's what has allowed me to get better and then it's carrying over to Sunday. And it's not just me. I think we're getting better as a group and gelling together and the chemistry is building and hopefully that allows us to get better each week. But the No. 1 priority is winning. So that's all I'm focused on."
(2) How will the Bears defense fare against Matthew Stafford?
The veteran quarterback led the Lions to a 27-24 win over the Bears Nov. 19 at Soldier Field by completing 21 of 31 passes for 299 yards with two touchdowns and a 120.2 passer rating that was his highest in 15 career games against the Bears.
"He's got great talent, No. 1," said defensive coordinator Vic Fangio. "He's very accurate. He's got great arm talent. He can put the ball on the money with good speed and anticipation, puts it in the right spots and it just shows his experience in those situations that he knows when to take maybe a little extra chance or when it's got to be thrown in there tighter or on time and on rhythm. He's a very impressive quarterback. You can see why they gave him all that money."
It appears that the Bears won't be as shorthanded on defense Saturday as they were last Sunday against the Bengals. Outside linebacker Pernell McPhee is no longer on the injury report, while nose tackle Eddie Goldman (hip) and safety Adrian Amos (hamstring) are both listed as questionable after being limited in practice Thursday. All three players sat out last weekend's win in Cincinnati.
Fangio is hoping that the defense finishes the season strong. "We've played with good effort, toughness, intensity all year and we want to continue that," he said. "We've talked about it. We've got some tough foes coming up here. Stafford and that offense is a very tough assignment, but I think we'll be ready."
(3) Will the Bears offense build off of last Sunday's impressive performance?
The offense will look to replicate last week's outing against the Bengals when the unit compiled season highs with 33 points, 482 yards and 29 first downs. While Trubisky and the passing game clicked, the Bears rushed for 232 yards and three touchdowns on 38 carries. Jordan Howard ran for 147 yards and two TDs on 23 attempts, while Tarik Cohen added 80 yards on 12 attempts.
Asked to describe where the offense improved, Trubisky said: "Just being consistent, coming fast off the ball, o-line did a great job establishing the run game and then just finding those explosive plays in the pass game, stretching them east and west and then just converting on third down. I think that's what allowed us to be consistent, and everyone just did their job. They executed and when the ball came their way receivers made plays, running backs ran hard and the o-line controlled the line of scrimmage in the run game and pass game."
On Saturday, the Bears will face a Lions defense that ranks 27th in the NFL in total yards allowed, 20th against the run and 27th versus the pass. In the first meeting between the teams this season, the Bears rushed for 222 yards on 30 carries with Howard gaining 125 yards on 15 attempts, Trubisky running for 53 yards on six carries and Cohen adding 44 yards on nine runs.
(4) Will the Bears defense play a second straight strong game on the road?
The Bengals had scored at least 20 points in their previous five games before being held to seven points by an injury-depleted Bears defense last Sunday at Paul Brown Stadium. The unit allowed Cincinnati to convert only 25 percent of its third-down opportunities (3 of 12) after permitting the 49ers to convert 55 percent (10 of 18) the previous week.
"We had a better day on third down, which is kind of where you have to start in comparison to the recent weeks," Fangio said. "That was a big part of it. I thought we played well overall. I thought we had tight coverage when we needed it, tighter than it had been in recent weeks and that paid off, too."
The return of inside linebacker Danny Trevathan after he was sidelined with a calf injury has provided a major boost on defense.
"As many good players as you can put out there, you need, and he's certainly one of our better players," Fangio said. "We missed him when he was out those four games or whatever it was. He's picked back up here lately and playing good for us, and he does provide some leadership.
"He's fast. He's got more range than our other [inside linebackers] as far as getting to plays and closing speed to go make a play. When somebody else doesn't make it, you don't think they should. But he can."