Bears players, ownership and staff have been actively engaging in conversations about social justice to better understand the issues at hand and how they can positively impact the community together.
What began as a discussion between Sam Acho and George H. McCaskey evolved into a joint learning experience that took them to the 007th District in Englewood, the Kewanee Life Skills Re-Entry Center, National Museum of African American History and Culture in D.C., Louisiana State Penitentiary, meetings with the Chicago Police Superintendent and more.
The Bears have a longstanding tradition of working in the community in a variety of areas. Below are some of the social justice community groups that they work with, which focus on helping youth and police who have been heavily impacted by gun violence and social injustice in the Chicago area.
Bears School Outreach
Through a partnership with Youth Guidance, Bears players make weekly visits to Chicago Public Schools during the season to speak, motivate and interact with students who are part of the Becoming a Man (B.A.M.) and Working on Womanhood (W.O.W.) programs.
For the third straight year, Bears Care has provided Youth Guidance with a $100,000 grant; Bears Care has supported Youth Guidance since 2013, with grant awards totaling $375,000.
Youth Guidance offers an array of school-based programs that enable disadvantaged youth in Chicago to succeed in school and in life. Its innovative program, B.A.M., helps young males in the city's most distressed public schools develop social and cognitive skills that reduce anti-social behavior, dropping out of school, and gang violence. The B.A.M. program focuses on six core values, Integrity, Accountability, Self-Determination, Positive Anger Expression, Visionary Goal Setting and Respect for Womanhood. W.O.W. focuses on five core values, including Self-Awareness, Emotional Intelligence, Healthy Relationships, Visionary Goal-Setting and Leadership.
BUILD Chicago
In honor of Dr. Martin Luther King's legacy, Chicago Bears linebacker Sam Acho and George H. McCaskey participated in BUILD's MLK Day of Service on Monday, Jan. 15, to help pack kits that were distributed to the homeless in the Austin neighborhood.
Bears Care has supported BUILD since 2012 with grant awards totaling $145,000.
BUILD's mission is to engage at-risk youth in the schools and on the streets, so they can realize their educational and career potential and contribute to the stability, safety and well-being of our communities. Since 1969, BUILD has helped tens of thousands of young people in Chicago's most violent neighborhoods to create successful lives and find positive alternatives to the violence and risky behaviors that rob them of their potential. BUILD reaches over 2,000 youth each year, with a focus on Austin, Humboldt Park/West Town, Fuller Park/Grand Boulevard, Hermosa, and East Garfield Park.
By the Hand Club for Kids
In April, Sam Acho, Trey Burton, Rashaad Coward, Howard Jones, Jonathon Mincy, Cody Parkey and Roy Robertson-Harris visited By the Hand Club for Kids in Austin, where they prayed, read to elementary school kids and talked with junior high kids about what it took to get to the NFL and the challenges they overcame. Later that month, the players invited 20-25 junior high kids to Halas Hall for a career day, where the youth met with Bears staff members and Chicago police officers to discuss their job paths.
In June, Acho hosted the group of youths at a screening of Incredibles 2 at Lucky Strike. Acho and his teammates also invited the group to training camp, where they watched practice and met with the players.
This past August, Bears Care provided By the Hand Club for Kids with a $20,000 grant; Bears Care has been a supporter since 2010, with grant awards totaling $125,000.
By the Hand Club for Kids is an after-school program that emphasizes academic excellence while nurturing the whole child–mind, body and soul. By The Hand serves nearly 1,400 students, kindergarten through high school and college with five clubs in Austin, Cabrini-Green, Englewood and Altgeld-Gardens.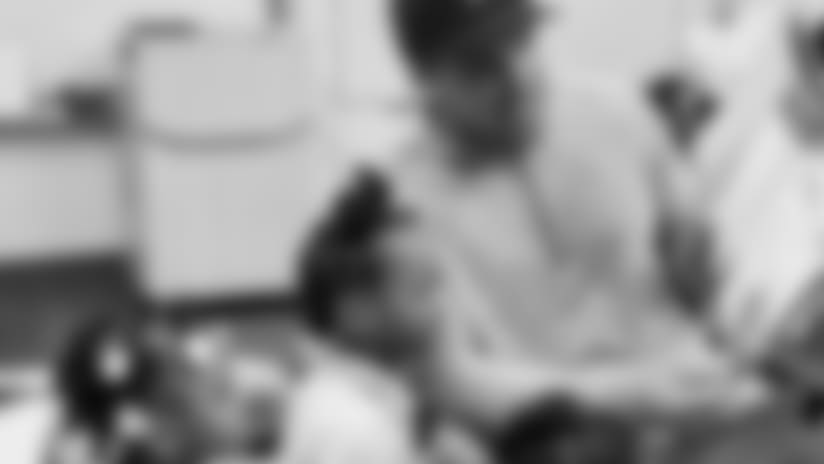 Chicago Police
In April, the Bears launched the 2018-19 Mini Monsters Clinics brought to you by Advocate Health Care, which brings non-contact football drills to Chicagoland schools and parks to allow kids to show off their athleticism and learn football skills. New this year, the Bears have partnered with the Chicago Police Department's CAPS team to have officers help lead each clinic alongside alumni. Over 5,500 kids have participated in Mini Monsters across the clinics, training camp and Meijer Bears End Zone. Over 100 Chicago Police officers have participated in Mini Monsters clinics, some of whom have participated in numerous clinics.
During OTAs in May, the Bears hosted police officers from the 006th and 007th Districts, along with kids from the Chicago Police Department's explorer program.
In June, Staley Da Bear surprised Chicago police officers in the 011th and 015th Districts with pizzas donated by Beggars Pizza.
During training camp, the team hosted officers from the 005th District, Kankakee County and Lake County; the group was invited by head coach Matt Nagy to break down the huddle.
Over the summer, alumnus Matt Forte participated in an afternoon ride along with the 006th District Commander William Bradley, who oversees the Auburn Gresham neighborhood.
In August, Bears Care and the Bears participated in the National Night Out in the 009th District by hosting Mini Monsters Clinics and providing backpacks, beverages and prizes for 006th District.
Through Bears Share, Bears Care donated nearly 400 tickets to Chicago Police Department 007th District CAPS Officers and Explorers for the Aug. 30 preseason game vs. the Buffalo Bills.
Bears Care recently provided the Chicago Police Memorial Foundation with a $31,000 grant in honor of Chicago police Commander Paul Bauer, who was killed in the line of duty in February. Since December 2016, Bears Care has partnered with the Chicago Police Foundation to provide over 150 lifesaving LEMART Treatment Kits to the officers serving in the 006th District. Former Bear Charles Tillman delivered the first shipment of the kits in spring of 2017.
Chicago Sports Alliance
Last December, the Bears joined the Blackhawks, Bulls, Cubs and White Sox to lend their broad reach and resources in support of solutions to decrease violence in the city. Working collectively as the Chicago Sports Alliance, $1 million total in one-time grants was donated to support three programs addressing this critical issue: Choose 2 Change, a high-intensity mentoring and trauma therapy program proven to reduce violent behavior; analyst training by the Crime Lab for the Chicago Police Department's Strategic Decision Support Centers; and the University of Chicago Crime Lab to support efforts to measure and assess the impact of the teams' initial investments to improve outcomes for the most vulnerable Chicagoans.
During the Bears Miller Lite Draft Party, the Bears hosted a group of youth from Choose 2 Change and arranged a meet-and-greet with Mitchell Trubisky.
On June 25, the five teams came together for the first time in recent history to jointly host youth and mentors from Choose 2 Change, along with police officers from the SDSCs, to celebrate the start of summer and congratulate the youth for their work in the program.
Douglas Park
In March, the NFL and LISC announced that the Chicago Parks Foundation will install a synthetic turf field at Douglas Park in the North Lawndale community due in part to a $250,000 grant from the Chicago Bears through the National Football League Foundation Grassroots Program. Douglas Park is the home field for the Academy for Urban School Leadership's tackle football program, which is supported through Bears Care grants, along with the football programs at Johnson School of Excellence and Collins Academy High School. LISC identifies local, nonprofit, community-based agencies that have an interest in building or refurbishing football fields in schools and neighborhood parks. Through the program, local agencies are provided with the necessary financing and technical assistance to improve the quality and safety of fields in their communities. The agencies oversee the construction, maintenance and programming of the fields.
Firehouse Community Arts Center
In March, the Bears hosted a small group of young men and women from the Firehouse Community Arts Center's culinary program at Halas Hall to meet with Executive Chef James Yoma and a surprise appearance from Sam Acho. The focus of the outing was to show the group what Chef Yoma does and discuss his career path.
In August, Bears Care awarded the FCAC a $30,000 grant for their job training initiatives and had previously supported the FCAC through the 2015 Bears Care holiday giving event, which included significant funding to refurbish the Center and equip their culinary facility.
The FCAC, located in Lawndale, engages youth through the arts to equip them to reach their fullest potential. Youth (ages 12-25) have opportunities to participate in workshops involving music production, dance, graphic arts, computer technology, culinary art, photography and entrepreneurship.
I Grow Chicago
This offseason, the Bears through the NFL Foundation, and Bears Care provided I Grow Chicago in Englewood with a grant to assist with their campus expansion project. Through this donation, I Grow Chicago will be able to expand their Peace Campus to include a Family Resource House, which will aim to empower, educate and employ women and mothers to become community leaders. During construction, residents of I Grow Chicago will learn from the contractors on-site and be paid to assist throughout the rehabilitation process.
To kick off the partnership in June, George H. McCaskey and over 60 Bears employees volunteered with I Grow Chicago to help rehabilitate some of their properties in Englewood, working with community members on a variety of projects including painting, installing cabinets and floors, moving furniture, staining a deck and demolition.
Bears Care also hosted I Grow in a suite at the Aug. 30 preseason contest vs. the Buffalo Bills.
In 2014, I Grow Chicago opened the Peace House, a previously abandoned home in West Englewood that they transformed into a community gathering space. They are creating a culture of hope in Englewood, where a community is ready to make a difference for themselves, their neighbors and their children.
Leo High School
For the second straight year, Bears Care has held their holiday giving initiative at Leo High School, which is an all-male, predominantly African-American school located in the Auburn-Gresham neighborhood. Chicago Bears running back Jordan Howard and defensive back Kyle Fuller joined George H. McCaskey, Bears staff, members of the Chicago Police Department 006th District and Leo High School volunteers for the annual Bears Care holiday giving initiative on Tuesday, Dec. 19. Since December 2016, Bears Care has provided nearly $25,000 in grants to the TARGET Area Development Corporation and Greater Auburn-Gresham Development Corporation, which serve the community surrounding Leo High School.
During OTAs in May, the Bears hosted members of the Leo High School football team at practice.
The football team was also invited out to training camp, where they met with Bears players after practice and participated in the Gatorade Junior Training Camp, which featured clinics led by former Bears Jason McKie, Alex Brown and Jason Davis, alongside certified USA Football Master Trainers and coaches; the Chicago Bears through the NFL Foundation provided the school with a $3,000 grant for use towards football skills and safety.
In August, Bears Care provided Leo High School with a $100,000 grant. Bears Care has supported Leo High School since in 2016 through grant awards to Big Shoulders Fund totaling $300,000.
Southside Occupational Academy High School
In June, the Bears held a Save Da Planet sustainability event with Chicago Gateway Green and IGS Energy at Southside Occupational Academy High School in Englewood. Sam Acho, alumnus Jason McKie, Staley Da Bear and 30 IGS Energy employees joined to plant trees and flowers in school gardens, propagate boxwood, spread mulch, serve as runners for materials, landscape/clean and assemble a compost bin and rain barrels. Additionally, the Bears and IGS teamed up to provide a $10,000 donation to Southside Occupational Academy High School for greening and sustainability programming.