After spending the first 12 weeks of the season on the Bears practice squad, rookie receiver Daniel Braverman on Tuesday was promoted to the 53-man roster.
"I'm really excited that the Bears decided to give me a shot and wanted to put me on the active squad," Braverman said. "I'm excited to help this team in any way I can."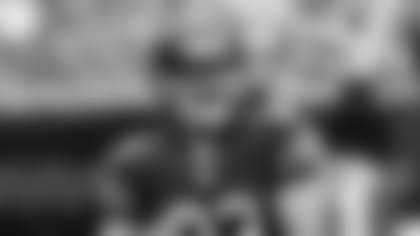 Bears receiver Daniel Braverman was promoted to the 53-man roster after spending the first 12 weeks of the season on the practice squad.


Braverman was selected by the Bears in the seventh round of this year's draft out of Western Michigan. In three college seasons, he caught 212 passes for 2,499 yards and 19 touchdowns. Last year Braverman ranked second in the nation with 108 catches for 1,367 yards and 13 TDs.
Braverman caught six passes for 40 yards in preseason action.
With Braverman's addition, the Bears now have all nine of their 2016 draft picks on their 53-man roster. The others are outside linebacker Leonard Floyd, center Cody Whitehair, defensive end Jonathan Bullard, linebacker Nick Kwiatkoski, safety Deon Bush, cornerback Deiondre Hall, running back Jordan Howard and safety DeAndre Houston-Carson.
Having to wait as long as he did to join his fellow draftees wasn't easy for Braverman. "Of course it's tough because you want to play football," he said. "But it just adds fuel to the fire."
Braverman was all smiles Tuesday morning while reflecting on his journey to the NFL.
"Just thinking how far I've come since being a little kid playing flag football, it's crazy," Braverman said. "It's truly a blessing."
Braverman filled the roster spot that belonged to inside linebacker Danny Trevathan, who was placed on injured reserve two days after rupturing the patellar tendon in his right knee in Sunday's 27-21 loss to the Titans.
The Bears on Tuesday also signed tight end Justin Perillo to their practice squad. Perillo entered the NFL with the Packers in 2014 as an undrafted free agent from Maine. He appeared in 20 games with one start the past three seasons with Green Bay, catching 15 passes for 137 yards and one TD.