The Bears on Tuesday promoted cornerback Isaiah Frey and receiver Rashad Ross from their practice squad and released running back Shaun Draughn, tight end Matthew Mulligan and receiver Chris Williams.
Frey was selected by the Bears in the sixth round of the 2012 draft out of Nevada. After spending his entire rookie season on the practice squad, he appeared in all 16 games with six starts last year as the Bears' nickel back, recording 62 tackles and two pass breakups.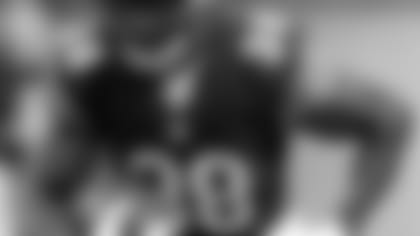 Running back Shaun Draughn was waived by the Bears on Tuesday.
Frey sustained a hamstring injury Aug. 4 in training camp and missed the Bears' first three preseason games. He returned to practice Aug. 25, but was waived the next day.
The Bears then signed Frey to their practice squad Sept. 1 and elevated him to the 53-man roster Tuesday, one day after cornerback Kyle Fuller was placed on injured reserve with a torn right triceps he sustained in Sunday night's win over the 49ers.
The Bears had been moving Tim Jennings from cornerback to nickel back and inserting rookie Kyle Fuller at cornerback in passing situations. But with Tillman out, it appears that Fuller and Jennings will stay put at cornerback with Frey bolstering the nickel back position.
Ross was signed to the Bears' practice squad Sept. 1, less than a week after being released by the Redskins. In a preseason game against the Browns, he had a 43-yard reception and 42-yard kickoff return. Ross entered the NFL last year as an undrafted free agent with the Titans and spent part of his rookie season on the Chiefs' practice squad.
In a Q-and-A session with fans earlier this month, Bears general manager Phil Emery said that Ross possesses "good upside return ability" and was "looking forward to seeing how he develops."
Draughn and Mulligan both appeared in the Bears' first two games this season as reserves, while Williams played in Sunday night's win over the 49ers on special teams.
The Bears on Tuesday also re-signed defensive tackle Roy Philon to the practice squad. The 6-3, 291-pound rookie from Louisville had been on Chicago's practice squad from Sept. 1-9.
Tuesday's moves leave the Bears with one opening on their 53-man roster and three on their practice squad.