One day after their resounding season-opening win over the Indianapolis Colts, the Bears on Monday bolstered their offensive line by signing veteran tackle Jonathan Scott.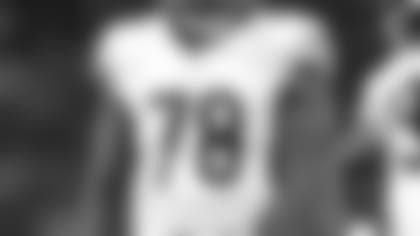 Nate Collins has appeared in 13 games in the previous two seasons with the Jaguars.
The 6-6, 318-pounder has started 28 of 58 games played in six NFL seasons with the Lions
(2006-07), Bills (2009) and Steelers (2010-11). Scott, who was selected by Detroit in the fifth round of the 2006 draft, started 14 games and three playoff contests the past two seasons with Pittsburgh.
"I think as you talk with [general manager] Phil [Emery] what we've always said is we'll continue to just improve our roster at all times," said coach Lovie Smith. "It's as simple as that. We had an opportunity to get a good football player in here. We're excited about him becoming a Bear."
Scott's addition wasn't the only roster move Monday. Defensive tackle Nate Collins was reinstated after serving a one-game suspension for violating the NFL's substance abuse policy. The Bears also waived rookie punter Ryan Quigley, signed linebacker Patrick Trahan and tight end Dedrick Epps to the practice squad, and terminated the practice squad contract of tackle Cory Brandon.
Scott was cut by the Steelers July 19. He signed with the Lions, but was hampered by a knee injury and eventually released by Detroit. Asked by a Chicago reporter about his health Monday, Scott replied that he's "real healthy, very healthy, healthy enough to play."
Scott also said that he's eager to join the Bears and show what he can do.
"It's going to be a great experience," Scott said. "I think I'll definitely get that opportunity here. We had a brief dialogue after I got released by Detroit and I had good history in Pittsburgh, so hopefully my skill set helps the team get better."
Scott doesn't anticipate any problems learning another offense.
"The good thing about it is coach [Mike] Tice has a good way of just relaying information and making it relatable," Scott said. "I think it's going to be a great experience because it's something I've known in past years and I'll just kind of transfer it over."
Collins impressed coaches during training camp and the preseason. The 6-2, 296-pounder signed with the Bears in May after appearing in 13 games the previous two seasons with the Jaguars, recording 10 tackles, half a sack and one fumble recovery.
"He had a history coming in and he played good football before with Jacksonville before we signed him," Smith said. "But he's just like everybody else. You judge him every day from one-on-ones to the tempo that he comes to practice with each day to just making plays."
Epps appeared in three games with the Dolphins in 2010 and has also spent time on the practice squads of the Chargers, Colts and Jets.
Quigley was waived now that veteran punter Adam Podlesh has recovered from a hip flexor injury. The Bears kept the undrafted rookie on their roster last week just in case Podlesh would be unable to play in Sunday's season opener. But Podlesh suited up, averaging 41.6 yards on five punts.
Quigley performed well in the final two preseason games while subbing for Podlesh, averaging 43.6 yards while placing three of seven punts inside-the-20 against the Giants and landing three of four punts inside-the-20 while also recovering a fumble versus the Browns.
"When I had my hip injury, he came in and played well," Podlesh said. "Having him on our roster [last] week shows the NFL that he can punt in this league, that we were very comfortable having him fill in if I wasn't able to go against Indy. He's got a great mindset. He works really hard. He's got a good leg on him, so there's a lot of promise for him."