On Wednesday, April 27th, the Chicago Bears and Hall of Fame linebacker Dick Butkus hosted over 100 student-athletes, parents and coaches from high schools across the Chicagoland for the third annual "I Play Clean" event at the PNC Center at Halas Hall.
The program included a panel discussion led by Zach Zaidman of WSCR 670 and WBBM Newsradio 780 & 105.9FM. Panel members included: Butkus; his son Matt, who was a defensive lineman at USC; Bears head athletic trainer Nate Breske; and Adolpho Birch, the NFL's senior vice president of labor policy and government affairs.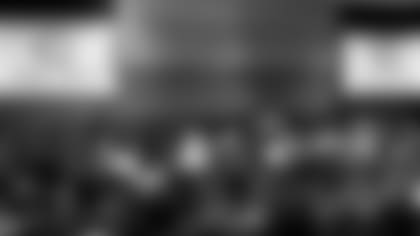 Local high school student-athletes, parents and coaches listening to "I Play Clean" event panel discussion.


The panel covered the dangers of performance-enhancing drugs (PEDs) and the do's and don'ts of supplement use. The panel concluded with a question-and-answer session from the student-athletes in attendance followed by an I Play Clean pledge agreement signing and photos with Dick Butkus.
More than a half million high school athletes are reported to have used steroids, with young women believed to be the fastest growing segment. The I Play Clean program encourages teens to train hard, eat well and play with attitude, instead of resorting to dangerous steroids and illegal performance-enhancing drugs (PEDs).
The program provides tips on training and nutrition to teens, parents and coaches. The I Play Clean program receives support from the NFL and the NFL Players Research and Education Foundation. The program has also been endorsed by more than 100 high-profile athletes and coaches.
Butkus aims to raise awareness to the issue of steroids with the support of major sponsors and by sending out educational kits to over 10,000 high schools throughout the country. "I think it's my duty; I think it's a duty for all former athletes to give back to the game," said Butkus.
Austin Cullen, a student-athlete at Montini Catholic High School in Lombard, IL, felt that it was important for him to sign the I Play Clean pledge. "I feel like all players should be safe when they play football and it's better for the team," Cullen said. Prior to the event, Cullen was unaware of the many dangers associated with steroid use, including death. "When it comes from Dick Butkus, a lot of players will listen to him more than a coach on [their] football team," Cullen said. "Hearing it from him really inspires me to be clean and play football."
Butkus, a south side native, played football for Chicago Vocational High School and the University of Illinois before playing nine seasons with the Bears from 1965-73. He is widely regarded as one of the greatest players in NFL history.