Around Christmas time last year, Nicole Mitchell – a deaf single mother of three kids in southwest suburban Cook County – received a package from Bears defensive lineman Justin Jones. Nicole opened it to find various gift cards for everyday essentials like groceries, gas and electronics as well Bears gear for her, her son Myles and her daughters Mynayla and Myangela.
That's when Nicole found out Jones, with the help of the Bears, decided to adopt her family–who in the past year has been homeless at times or in Section 8 housing–for the holidays and provide them with Christmas gifts.
"I was shocked," Nicole said. "I just started bawling. I got the package in the mail, and I looked at it and was like, 'What? Justin Jones? Oh my gosh, no way.' I wrote him back and I was so grateful. It's so wonderful that there's people like this in our world, because we went through such a hard time."
While Nicole was studying at Dominican University to earn her Masters degree in Social Work last year, she reached out to Bears Care in the fall in hopes of finding support for her and her family's basic needs.
Around the same time, Jones was searching for a way to give back to the community. Having personal experience with families and kids not being able to give or receive Christmas gifts, Jones "just wanted to help out."
Nicole and her family met Jones for the first time Saturday at Halas Hall during the 15th annual Bears Care Back-to-School Fair, where the Bears welcomed over 1,500 kids and their families from underserved communities in Lake and other suburban counties.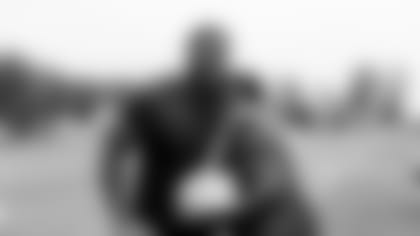 "It was cool," Jones said of meeting the family. "I wasn't really expecting this whole thing, I was just more so wanting to help. From where I'm from, I know a lot of people who don't always get to have things a lot of other people get to have, so being in a position to help, that's good enough for me. That's what I enjoy. That's my gift to myself, just being able to help people because people helped me when I was coming up. So, all I wanted to do was return the favor."
Jones spent time with Nicole, Mitchell, Mynayla and Myangela after Saturday's practice to take pictures, sign the kids' shirts and footballs and talk with them about school. Jones spoke with Mitchell, who plays varsity football at Richards High School in southwest suburban Oak Lawn, about his team and interest in the sport.
"I felt so moved and inspired to meet Justin," Nicole said. "He's such a great person. He's been amazing and I'm so grateful for everything he's done for my family.
"I got very emotional, especially for my son, because he plays football and I could see this really had a huge influence on him."
The family was also greeted by Bears President and CEO Kevin Warren, who shared an emotional hug with Nicole before talking with each of her children. Kevin talked with Mitchell about his football season, being a running back and his excitement of watching the Bears practice.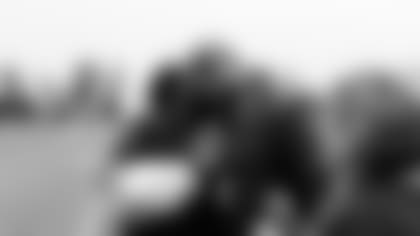 Nicole and her children also met various Bears players after practice, including quarterback Justin Fields and running back Khalil Herbert, who both took pictures with the family and signed autographs for them.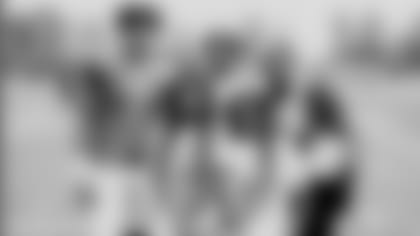 Nicole's family was one of many who were positively impacted by the Bears Care Back-to-School Fair. With the help of community partners like PNC, Good Foods, the Northern Illinois Food Bank and Young, Black & Lit, the Bears are able to support students in their educational journeys.
"This is really what it's all about," Warren said. "So many times in the NFL – I get emotional about it – people focus on wins and losses and all the other things that come along with being in the National Football League. But this is really what we're here for–through the Chicago Bears and the National Football League and all of our partners–to be able to change the future generations. All you have to do is look around and see all the kids, them having fun, and their families. To be able to bring their families together is incredibly special."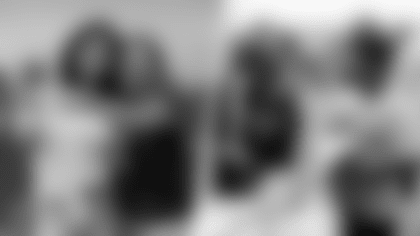 This year the Bears offered guests backpacks filled with essential school supplies, reusable lunch bags, gas gift cards, books and grocery bags. Funk's Barbershop offered free haircuts and Team Smile provided free dental exams in the Walter Payton Center.
Along with Warren, several other members of the organization participated in the Back-to-School activities, including Bears chairman George H. McCaskey, general manager Ryan Poles and coach Matt Eberflus.
"To whom more is given, more is expected," McCaskey said. "So we're happy to act as a facilitator to get some of these kids the desperately needed supplies that they're going to have to have when school starts. They're giving free haircuts, free dental exams in the Walter Payton Center. We've got backpacks full of school supplies for distribution out here. They get to see practice, get to watch their heroes in action. It's just a great thing all the way around."
McCaskey greeted and handed out tickets to students and their families at the training camp entrance gates at Halas Hall, calling the experience "gratifying."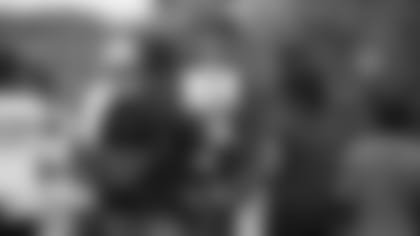 Inside the Walter Payton Center, Poles visited with kids getting haircuts and dental exams and helped run the Mini Monsters drills. He also spent time taking pictures and signing autographs for the students and their families.
"It was awesome," Poles said. "It's good to see kids from the community come out. It's a nice collaboration with how we set up the dentist part as well as the haircuts and really making back to school fun and cool and getting everyone excited for the year.
"It's really fun to see the joy on the [kids'] faces and how much they love being around the Chicago Bears and our facility. It's a really cool and unique experience for them."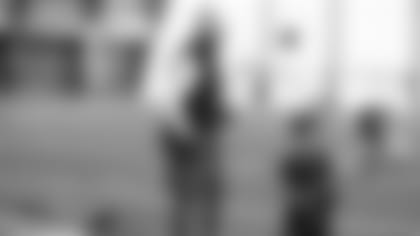 Eberflus joined McCaskey at the entrance to welcome the kids and families to Halas Hall, while also taking time to pose for pictures and sign autographs.
Eberflus then picked two children to ride in a golf cart with him to get haircuts at the Walter Payton Center.
"Service to the community is an important part of being a Chicago Bear, so it was a pleasure today giving back to those fans before practice with the Bears Care 'Back To School Fair,'" Eberflus said. "To meet the young boys, be able to spend some time with them and set them up with their back-to-school haircuts was great to feel the joy that brought them."
Alexus Ortiz, the mother of 5-year-old Grayson Santa, one of the kids Eberflus surprised, was amazed by the coach's interaction with her son. She said Grayson was "so excited riding in the cart with [Eberflus]" and "couldn't stop smiling."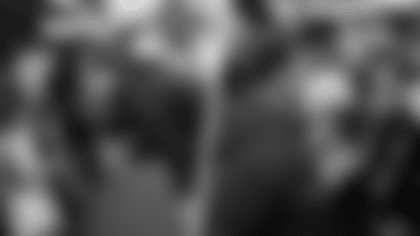 Ortiz was excited to bring Grayson to Halas Hall Saturday as neither her or her son have ever experienced training camp or a Bears game, despite her being a fan nearly her entire life. Ortiz said she loved the experience at the Bears Care Back-to-School Fair as it allowed Grayson to "get more interaction with other kids."
"I feel like it's really nice of the coach and the Bears and the committees here that are doing this for the kids," Ortiz said. "There's kids out there that don't even have this opportunity. I've been here since I was two years old from Cambodia and I've never had an opportunity like this. This is really nice that they're giving back to the kids and to the community."