The Chicago Bears and Bears Care, the team's charitable arm, partnered with Lawndale Community Church for the organizations' annual holiday giving initiative.  Bears staff, players and coaches had the opportunity to grant holiday wishes by purchasing items on a "wish list" for individuals or entire families.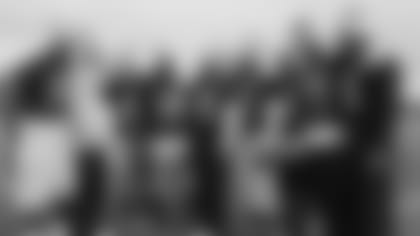 On Tuesday, December 15, Bears representatives, including Chairman George H. McCaskey and his wife, Barb; Senior Director of Special Projects Patrick McCaskey and his wife, Gretchen; and mascot Staley Da Bear, visited the Firehouse Community Arts Center in Chicago to deliver the gifts and visit with children and families.  Guests enjoyed photos with Staley, cookie decorating, games, and a pizza dinner.
In addition to the gift-giving component, Bears Care made a monetary contribution to support programming at the Firehouse Community Arts Center, which serves students from the Lawndale and Little Village neighborhoods.  The contribution will help fund programming and facility upgrades and also allow the Center to update and expand their tech lab with new laptops and desks. 
Also of note was a significant contribution made by Bears players, and matched by Bears Care, which assisted each family participating in the event with resources to address basic needs including utilities and food.
The initiative was truly a team effort, with over 50 staff members and coaches, and 12 players participating by adopting a family or making a monetary donation.  Because of that generosity, the Bears were able to provide 43 families and over 155 individuals with some essentials—and some surprises!—to help brighten their holiday season.  In all, over $60,000 was injected into the Lawndale community through the team's giving initiative. 
The Bears would like to thank Papa John's, Dr Pepper and Blondie's Cookies for their support, as well as the University of Illinois College of Business Alumni Association for collecting toys at the Illinois vs. Northwestern football game at Soldier Field and donating them to the Bears holiday giving initiative, along with a cash contribution.