It was a road trip unlike any other in Bears history.
On May 19, the organization chartered a plane that took about 140 employees to Washington, D.C., for the day to visit the National Museum of African American History and Culture.
"[The purpose of the trip] was to continue to infuse ways for people to learn and have that immersive educational experience," said Tanesha Wade, the Bears' senior vice president of diversity, equity, and inclusion (DEI). "And with the platform we have, the opportunity we have to grow together and effect change was where it really came from."
The National Museum of African American History and Culture is a Smithsonian museum located on the National Mall. Construction began in 2012 and the museum opened in 2016. It's the world's largest museum dedicated to African American history and culture. It ranked as the fourth most-visited Smithsonian museum in its first full year of operation and has welcomed nine million visitors since it opened.
"The trip to Washington, D.C., to visit the National Museum of African American History and Culture was an emotional, profound and powerful experience," said Bears President and CEO Kevin Warren. "Having the opportunity to deeply reflect upon the struggles of my ancestors will continue to inspire me to strive to make the world a better place. We are blessed to have the McCaskey family create the foundation for us to discuss social justice issues facing our nation."
The 350,000-square foot museum consists of 10 stories—five above ground and five below. It's comprised of history, cultural and community galleries, as well as a contemplative court. The museum houses more than 40,000 objects, although only about 3,500 items typically are on display.
"I enjoyed it a lot," said Kate Rackow, the Bears' manager of community outreach and alumni relations. "It was very impressive, all the different topics and eras that were covered. It was a very unique experience. We've never done anything like this before as an organization. It shows their dedication to DEI and trying to educate all of our staff."
Upon arriving at the museum, Warren addressed the Bears staffers in the Oprah Winfrey Theater, telling them that his visit to the facility four years earlier was "a life-changing experience" and "I think about this museum every single day." He urged them not to rush through the exhibits and to instead soak in the information and "let it simmer in your soul."
Warren and general manager Ryan Poles presented a game ball to Dr. Damion Thomas, the museum's sports curator and interim assistant director of cultural affairs, and the museum's staff.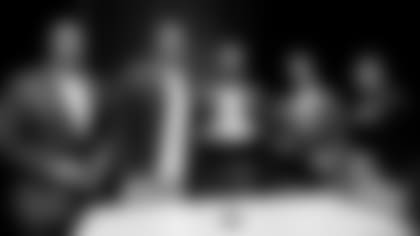 Poles felt that the visit was educational, especially in teaching the importance of having empathy for others. He plans to return with his wife and their two children.
Tim Daye, the Bears' manager of social media content creation, especially enjoyed the culture exhibit, particularly the music and sports.
"It was a great experience," Daye said. "I've been to the museum before, but it's been a couple years since I last went. It unlocked a few memories I had forgotten about, like things from when I was growing up. A lot of the stuff we saw shaped who I am."
The Bears employees who attended represented virtually every department in the organization.
"I think sometimes it is difficult to just take a moment just to come together, so a lot of this was about connection," Wade said. "We all are really busy and doing a great job at what we are here to do day-to-day. But to be able to connect makes us grow deeper relationships and engage further in what we're doing, and it'll make us a stronger organization."
"It's the McCaskey family and then it's just a complete buy-in," Poles said. "With Kevin, it pushes the envelope even more in terms of bringing this organization together, having empathy, working well together, having understanding. Those family fibers that you try to build in a football team and as an entire organization, they get stronger when you become vulnerable and you educate yourself about other people."