Several Bears players have spent time this offseason encouraging kids to PLAY 60 and lead healthy and active lifestyles. Wide receiver Earl Bennett, tackle J'Marcus Webb and cornerback Tim Jennings supported a variety of PLAY 60 programs, including Fuel Up to PLAY 60, Bears Football for Heart, and the NFL PLAY 60 Super School contest, in different schools in the Chicago area.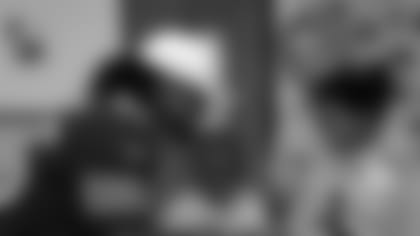 Earl Bennett helped spread the PLAY 60 message when he visited Timber Ridge Middle School in Plainfield on Wednesday, March 20 and Gregory Math & Science Elementary Academy in Chicago on Thursday, March 21. Both schools were awarded visits as a grand prize for their success in Fuel Up to PLAY 60, an in-school nutrition and physical activity program created in partnership with the National Dairy Council and the NFL, with additional support from the U.S. Department of Agriculture. The program, which is provided in Illinois by the Midwest Dairy Council and the Chicago Bears, encourages students to eat healthy, be active and implement positive changes at school.
During his visits, Bennett spoke to students about the importance of eating healthy and being active for 60 minutes a day, and he also lead groups of kids through physical fitness activities. For more information about Fuel Up to PLAY 60 or to sign up, please visit www.fueluptoplay60.com.
On Thursday, April 4, J'Marcus Webb appeared at Stratford Middle School in Bloomingdale in support of the Bears Football for Heart program. Bears Football for Heart teaches kids the fundamentals of football, encourages them to get 60 minutes of physical activity per day, and raises funds for the American Heart Association. Webb congratulated the students for making Stratford the top fundraising school in 2012. He shared the PLAY 60 message, and he also led a group of kids through various football activities.
Tim Jennings visited James Otis World Language Academy in Chicago on Monday, April 8 to congratulate the school for winning the 2012 NFL PLAY 60 Super School contest! As part of the grand prize package, Jennings presented the school with a $10,000 NFL PLAY 60 Health and Wellness grant, talked to students about the importance of leading a healthy and active lifestyle, and participated in fitness activities with the kids.
To learn more about the PLAY 60 movement and the Bears efforts to help keep Chicago's children active and healthy, please visit the PLAY 60 page on ChicagoBears.com.