For the fourth straight year, the Chicago Bears and the NFL partnered with Hall of Fame offensive tackle Anthony Muñoz and the Muñoz Agency to host an NFL Play 60 Character Camp.
The introductory level camp took place on June 27th at the Walter Payton Center at Halas Hall and hosted approximately 300 boys and girls between the ages of 9 and 13. With the mission of making a positive impact on the lives of the youth, the camp was targeted towards Hispanic youth as well as kids who have never played football before. Campers from Lake County and Chicago's Pilsen, North Side, West Side and South Side neighborhoods learned new skills and drills as well as the importance of character throughout sports and life.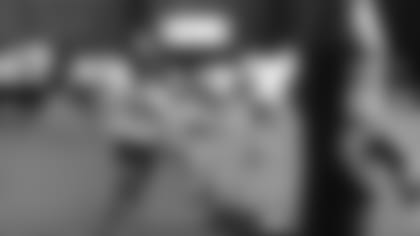 300 kids participated in the NFL PLAY 60 Character hosted at the Walter Payton Center.


Bears cornerback Sherrick McManis and wide receiver Cameron Meredith became coaches for the day and helped instruct the campers through a series of instructional activities. Former Bears player and current co-host of "Inside the Bears" Anthony Adams joined McManis and Meredith in challenging the campers to a friendly competition through various obstacles, passes and races.
NFL PLAY 60 Character Camps focus on key character traits such as reliability, honor and integrity. McManis spoke to the campers about the importance of keeping a positive attitude: "A lot of people told me I was too small to play football. No matter what your dreams are, keep your mind focused, surround yourself with positive people and you guys can make it happen."
At the end of the 3 hours, coaches selected three campers who helped their teammates, kept a positive attitude and demonstrated sportsmanship for the MVP award, designated for "Most Valuable Person." Every camp participant received a t-shirt and ¡Vamos Bears! gift bag.
The NFL Play 60 Character Camp in Lake Forest was the 2nd in a series of camps that will take place this summer. Since its inception in 2012, the program has partnered with USA Football and its NFL FLAG curriculum, which demonstrates basic skills to kids in a non-contact setting. In addition to character values, the camp also reinforces importance of healthy eating and 60 minutes of physical activity every day through the NFL PLAY 60 campaign.
Now in its fifth year, NFL PLAY 60 Character Camps have hosted 50 camps, impacting more than 20,000 youth across the country.
"I'm thrilled to kick off the fifth year of the NFL PLAY 60 Character Camps," said Anthony Muñoz, Hall of Fame offensive tackle and Chairman/Founder of the Anthony Muñoz Hall of Fame Foundation. "These local level efforts have a tremendous impact on the children from these varied communities, and it's an honor to work with them each and every year. When I was young, interacting with and learning directly from my NFL heroes was huge, and these camps continue that cause today."