For the second consecutive year, the Bears brought their gameday atmosphere across the pond and hosted an international Watch Party last Sunday in Manchester, England.
The Bears welcomed 145 fans to Shooter's Sports Bar to watch the team's Week 2 game against Tampa Bay, which kicked off at 6 p.m. British Summer Time. With a mix of diehard Bears fans and casual NFL fans, the Watch Party allows the club to nurture and grow their international fanbase.
In 2022, the Bears hosted Watch Parties in London and Barcelona. Bears Director of Brand Marketing Insights & Strategy Laura Condella said planning an event outside of central London has been a point of emphasis and that bringing the Bears to Manchester allowed fans who live in other parts of the United Kingdom "to still get love, attention and engagement from us."
"The Bears family really reaches everywhere, so it is always rewarding to see fans who have dedicated so much energy from afar be rewarded," Condella said. "They've given us so much energy and loyalty and passion for years. And part of our brand is about reciprocating that, so being able to take our energy and our gameday atmosphere over to them is really exciting."
Bears alum Anthony "Spice" Adams traveled to Manchester to help host the Watch Party and spent time taking pictures and telling fans about his life story. Of course, Spice brought the entertainment as well, leading dance breaks, touchdown celebration contests and giveaways.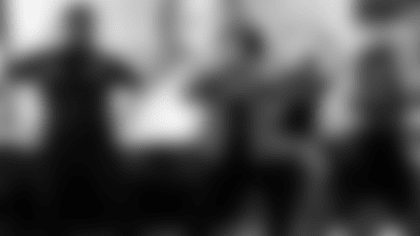 Adams said the fans' passion and excitement last Sunday created an environment that "felt like a home away from home even though we were across the pond." He noted one fan drove six hours to attend the Watch Party, highlighting how dedicated the Bears' international fandom is.
"It was awesome," Adams said. "It's a cool experience to see that it felt like home. The way they decorated it and everything, it would be like a Bears bar that you would go to. You could just feel the energy and we had a great DJ there. In between plays and breaks and halftime, he would pump the crowd up and give out free swag. I'd come up and dance with them and take pictures. It was just a good vibe. I think a lot of the fans there had such a great time."
Condella added that the Watch Party felt like "a perfect environment to get Spice back to the UK" and provide the fans a unique experience.
"Spice always adds a level of fun and excitement and energy and comedy to anything that we do," Condella said. "He's such a dedicated alum and ambassador of our brand. He's also really recognizable for not only our core fans that are there in the UK, but maybe for some of our casual fans who recognize him from his social media presence."
To recreate the game-like feel, the Bears kicked off the Watch Party with the team's hype video that is played at Soldier Field. Other pieces of content from the Bears' social media channels were played at the Watch Party to excite the fans, and attendees were also able to enter a raffle for a chance to win a trip to Chicago to watch the Bears take on the Lions Dec. 10 at Soldier Field thanks to United.
Adams and Bears Monster Squad DJ RIEL, kept fans entertained during commercial breaks, timeouts and halftime, but when the game was on, fans were locked in on the action, cheering and yelling as if they were at the stadium.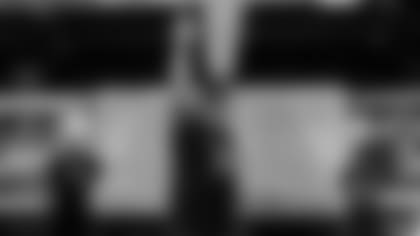 In Year 2 of the NFL's Global Markets Program, the Bears remain focused on expanding an already strong fanbase in international markets like the UK and Spain. While the club is still working to finalize plans, they hope to add another international Watch Party to this season's schedule. 
"To have these continue to grow is something we're really looking forward to," Condella said. "Being able to engage with and have these in-person experiences with more and more fans in the UK is exciting for us."