During the summer months, the Chicago Bears hosted a variety of youth football events at our training facility, Halas Hall, that focused on player safety, leadership skills, and health after football. These events brought together coaches from across the state of Illinois, youth players from the city and suburbs, and retired NFL players that reside in the Chicago area.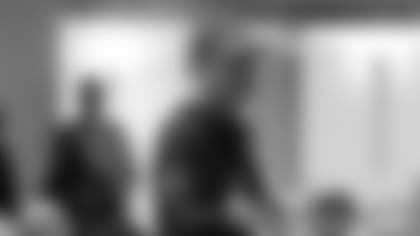 The Bears started off the summer by hosting the NFL High School Player Development Leadership Forum with over 50 local high school student-athletes. After participating in a character development session featuring former Bears players Chris Draft and Bears Director of Player Engagement Terry Cousin, the students completed a community service project by hosting a Punt, Pass, and Kick event with athletes from Special Olympics Illinois. In the afternoon, the group moved back to the football field for team-building drills conducted by members of the National Guard. All of the activities required the students to work together and communicate effectively to successfully complete a task—skills that they will need to be successful both on and off the field. Each participant received a certificate and a special coin from the National Guard and NFL to commemorate their participation.
Following the Leadership Forum, the Bears hosted the NFL High School Player Development 7-on-7 Regional Tournament at the Walter Payton Center. More than 100 high school football players participated, representing six different area schools. Participants also spent time with former Bears wide receiver Rashied Davis at the event. Davis spoke to the group about staying focused on their goals and overcoming obstacles in life. Proviso West won the regional tournament and competed at the national tournament in Indianapolis.
On Wednesday, June 11, Head Coach Marc Trestman and the Bears welcomed nearly 90 high school coaches from 31 different schools in the Chicago area to Halas Hall for a High School Football Coaches Clinic. The event was highlighted by a leadership talk from Coach Trestman, breakout sessions with six different Bears position coaches and a Heads Up Football overview.
The Bears also hosted two free USA Football Heads Up Player Safety Coach Training sessions at Halas Hall in June and July. The events, organized by USA Football, were attended by nearly 200 youth coaches from across the state of Illinois. The sessions featured instruction on concussion awareness, hydration, helmet and shoulder pad fitting, Heads Up Tackling classroom training and on-field Heads Up Tackling drills. After completion of the workshops, Player Safety Coaches will oversee their leagues' implementation of Heads Up Football and will monitor practices and games throughout the season.
After a busy summer of youth football activities, the Bears shifted our focus to retired NFL players. On Saturday, July 12, 2014, the NFL Player Care Foundation and the Bears partnered with Cleveland Clinic, the Satcher Health Leadership Institute and NorthShore University HealthSystem to host a free health screening for over 50 NFL alumni players. The Healthy Body & Mind screening program was open to all former NFL players and included a series of private and confidential cardiovascular and prostate screenings and mental health resources and education. The NFL PCF addresses all aspects of life – medical, emotional, financial, social, and community, providing advocacy, programming and assistance in each area.