After a thrilling come-from-behind victory over the Carolina Panthers on Sunday, the Bears were back to work in the community on Monday and Tuesday. Bears executives, players and staff took part in a variety of outreach activities, including a visit to Lurie Children's Hospital in Chicago, the kick-off of the Bears School Outreach program, and more.
ANN AND ROBERT H. LURIE CHILDREN'S HOSPITAL OF CHICAGO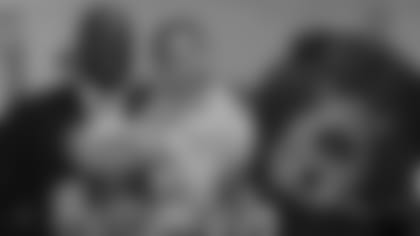 Israel Idonije and Staley Da Bear delivered teddy bears to patients as part of the Bear Hugs program.
Bears defensive lineman Israel Idonije, President and CEO Ted Phillips, and Chairman George H. McCaskey participated in a ribbon cutting ceremony to unveil the new Chicago Bears Gym at Ann & Robert H. Lurie Children's
Hospital of Chicago on Monday, October 29. The new gym, which was made possible by a $1 million donation from the Chicago Bears, features Bears murals and team décor, and will serve as a valuable resource for the hospital's young patients as they participate in physical and occupational therapy.
Prior to the ceremony, mascot Staley Da Bear delivered teddy bears to patients throughout the hospital as part of the Bear Hugs program. Through this program, members of the Bears organization and Staley visit a different children's hospital in the Chicago area each month to brighten the spirits of patients and their families. Hospitals visited so far include Advocate Hope Children's Hospital, Advocate Lutheran General Children's Hospital, Comer Children's Hospital, La Rabida Children's Hospital, Rehabilitation Institute of Chicago, Ronald McDonald Children's Hospital of Loyola, and Shriners Hospital for Children.
The Bears School Outreach program kickED-off for the 2012 school year on Tuesday, October 30 when quarterback Jason Campbell visited Jordan Community School in Chicago. For six weeks during the football season and through a partnership with Youth Guidance, Chicago Bears players will visit Chicago Public Schools to speak to, motivate, and interact with students who are part of the B.A.M (Becoming a Man) and W.O.W. (Working on Womanhood) programs. The theme for player visits is character development, goal setting, commitment to excellence, and the importance of secondary education. The Bears School Outreach Program is in its 15th season and is brought to you by the University of Phoenix, the Official Education Partner of the Chicago Bears.
Guard Gabe Carimi and long snapper Patrick Mannelly, as well as alumni players Brian Baschnagel, Mike Richardson, Charlie Brown and Major Hazelton, joined Bears staff members and local high school students in volunteering at Elewa Park in Lake Forest on Tuesday, October 30. In partnership with Constellation Energy, the official energy provider of the Chicago Bears, the group assisted Lake Forest Open Lands with brush removal, cattail pulling, burn prep, seed collecting, and trail maintenance, among other things. The fall habitat restoration and preserve management is needed to maintain the desired habitat, keep out invasive species and maintain a safe and welcoming environment for public use. The Middlefork Farm Nature Preserve is part of an 800 acre corridor which historically was used for agriculture purposes and is now being restored to natural open space for wildlife habitat, environment programs and public recreation. For more information about Lake Forest Open Lands, feel free to visit www.LFOLA.org.
CHICAGO BEARS/JEWEL-OSCO "COAT DRIVE"
Defensive end Julius Peppers appeared at Jewel-Osco in Libertyville on Tuesday, October 30 in support of the 24th Annual Chicago Bears/Jewel-Osco "Coat Drive." Fans had the opportunity to meet Julius and were encouraged to bring a coat to donate. The Bears have teamed up with Jewel-Osco, The Salvation Army and William Meyers Movers for the 24th Annual Chicago Bears/Jewel-Osco "Coat Drive." New and gently used coats can be donated at all Jewel-Osco locations throughout Chicagoland now through December 16, 2012. A store locator is available at www.jewelosco.com. Thousands of coats will be collected this year as part of the 24th Annual Chicago Bears/Jewel-Osco "Coat Drive" benefiting The Salvation Army and public schools in the Chicagoland area.