For the second year in a row, Bears head coach Matt Eberflus donated Nike jerseys to high school girls flag football teams across the Chicagoland area.
This year, Eberflus supported Little Village, Fenton, Kennedy, North Chicago, Rickover and Bloom Township. The Bears invited those teams to Halas Hall Monday for a Career Expo to teach over 100 young girls about various career paths in professional sports. Bloom Township was unable to attend, so the Bears invited Lane Tech in their place.
Of the six teams to which Eberflus donated jerseys, four are first-year girls flag teams who will compete this fall. Helping jumpstart football programs is a meaningful opportunity to Eberflus, who is passionate about "growing the game."
While the girls were scheduled to view practice Monday, inclement weather cancelled the outdoor public practice. Eberflus still visited with the teams after practice and spent time taking pictures and signing autographs.
"It was exciting because you could feel the positive energy," Eberflus said. "Four of the six teams are first-year programs, and you can see the excitement of them being involved in football and getting to play the game. That's why I think the flag football program–that's really across America now–is really an exciting time for a lot of people to get involved in football.
"Anytime the Bears or any individual can help grow the game, I think it's a good idea to do that," Eberflus said. "It's really about education. You educate everybody about the game of football, and this is a good, safe way to play the game. So, you're going to get more people involved and it's really exciting to see."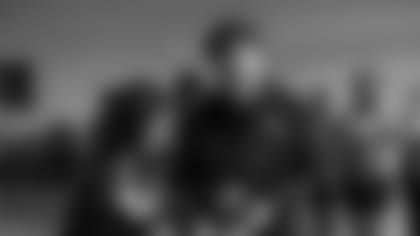 After meeting with Eberflus, the students participated in a networking lunch, spending an hour talking to various Bears staff members from departments such as digital media, marketing, community relations and more.
Ava Bomicino, a senior at Fenton, said hearing from all the staff members allowed her to understand some of their roles in new ways and learn about positions she never knew existed.
"A common theme I've heard is that it's really easy to get sent on a different path than what you start on, and that's okay," Bomicino said. "Especially going into my senior year, I've been thinking a lot about college and if I want to continue sports. It's been really nice to hear that whatever I start with, [it] might not be the end of it. If I'm not 100 percent happy with it, it's okay because it can lead me to finding what I'm 100 percent happy with."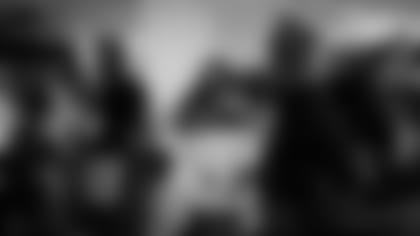 Following the networking event, female staff members from five departments gave presentations on their background and roles in the club to small groups of students. The presenters were Monterey Pepper and Megan Greseth (social media), Micaeh Johnson (corporate communications), Kristin Rogers, Ana Rodriguez and Diana Galvan (human resources), Danica Lopez and Brittney Thomas (corporate partnerships) and Kareema Hill (ticket sales and service).
Andrea Iniguez, a junior at Kennedy, took in pieces of advice from every group Monday, but one quote really stuck with her: "rejection is redirection." Iniguez felt grateful to meet all everyone who was involved with and attended the Career Expo, saying: "they're really helping me build onto my future and inspiring me."
"It's very empowering to see all these women in this room," Iniguez said, "just seeing them teach other young women how to be the true versions of themselves and the best versions of themselves. It brings me so much happiness and excitement for everyone in this room and everyone's future. I know everyone that's here is capable of doing great things and I'm really happy that all these women are helping us to get to that place."
Pepper and Greseth, who talked about how they promote the Bears and engage with fans through social media, expressed how much they would've valued this opportunity as high schoolers. The two hoped to have left a lasting impact on the girls Monday and were excited with how engaged the students were. Pepper noted the girls asked "very specific job questions," which she appreciated because "they were actually listening to the role."
"It was cool for them to also see women in the space too," Greseth said, "to show them, 'yes we are here and you can be too.' They see, 'if you see her, you can be her.' So hopefully they felt that and were able to picture themselves in this role. Growing up, something like this would've seemed so unattainable to me and unrealistic, so hopefully they're able to see themselves accomplishing this."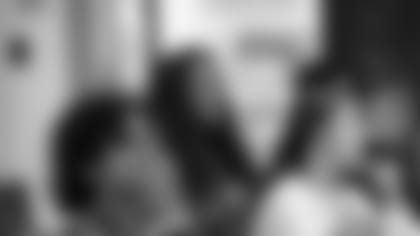 Monday's Career Expo is another step toward leveling the playing field for girls in sports. The Bears continue to prioritize girls flag football in Illinois and the student-athletes are feeling the support.
Krystal Silva, a junior at Little Village, felt inspired by the event and expressed her gratitude for the Bears' efforts in helping girls flag football grow on and off the field.
"It feels nice because it feels like we're getting the recognition we need," Silva said. "It's always been like, 'oh, girls can't play sports; it's too difficult.' But I feel like it's not like that anymore. Girls are supposed to show that they're able to do anything that everyone else can."