The Bears helped launch the first-ever United Kingdom NFL Girls Flag League Wednesday, which is also International Women's Day. Partnering with the New York Jets, the Bears are continuing their goal of growing girls flag football around the world.
The inaugural league, which is for girls 12-14 years old, starts April 17 and will be comprised of 12 teams split into two conferences. The Bears and Jets will each run a conference in the league and the five-week season will conclude with a Championship Event.
"The Chicago Bears are excited to partner with the New York Jets to continue growing the great game of football by starting a girls flag football league in the UK," Bears director of community and alumni relations Matt Simeone said. "We want to continue to make football more inclusive, accessible, and equitable.  We have seen great success with girls flag football in Illinois and we hope to continue that strong engagement over in the UK."
Representing the Bears at the launch event in Ealing, London was receiver Chase Claypool, who became a part of the Global Flag Football Ambassadors program in December. Claypool, a native of Canada, was one of six girls flag football advocates to speak at a panel – hosted by Sky Sports Presenter Hannah Wilkes – for players of the new league Wednesday.
"I started playing football when I was eight years old and then I started playing flag football when I was nine years old," Claypool said Wednesday during the panel. "So I tried to waste no time jumping into that sport. And I think why flag football is so much fun is so many different type of people can play the sport. Maybe there's some people who can't play tackle football, but everyone can play flag football and that's what is so important."
Claypool was joined on the panel by Jets tight end C.J. Uzomah, former England Rugby Union player Ugo Monye, Team GB Flag player Phoebe Schecter, England Rugby Sevens player Celia Quansah and head of community & grassroots development at NFL UK Afia Law. The panel discussed how women and girls are continuously breaking down barriers in the sport and in the NFL.
"As an NFL fan and a parent to two young girls, I am excited to be a part of the Jets and Bears making history with the first ever UK NFL Flag League for girls," Monye said. "I'm looking forward to seeing some great games and hopefully some future players in the sport."
Following the panel, the girls in attendance were invited to participate in flag football drills led by the panelists.
"Being a former player, I love the sport and only wished there were opportunities like this for me," Law said. "At the NFL, we have seen great interest from young people in Flag Football and initiatives like this are fantastic to help more girls be active and to break down barriers at a competitive level too."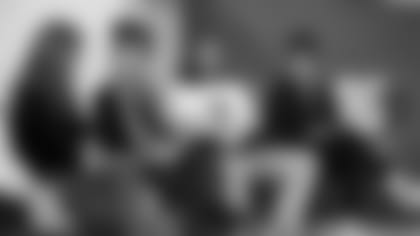 Creating the girls flag football league in the UK will help provide new opportunities for young girls looking to compete in sports. A Sport England survey found of 4,000 children between 11-18 years old, half of girls reported they don't feel good enough to play competitive sport. However, the same study showed 76 percent of the girls want to be more active and 64 percent enjoy competitive sports.
"Growing up in Canada we didn't have as much opportunity in sports as maybe America or other countries because there wasn't as much coverage," Claypool said. "So the ability to try and play as many sports as I possibly could helped me a lot in life and is part of the reason I'm sitting here today."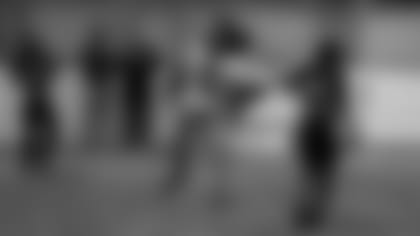 By spreading flag football internationally, the Bears aim to help more young girls overcome barriers in activity and increase access to sports. The Bears first implemented those initiatives in the UK last summer by hosting 13 free Mini Monsters youth clinics across eight cities.
The Bears visited London, Southampton, Cambridge, Birmingham, Flintshire, Sheffield, Manchester and Glasgow in July 2022 and held 90-minute sessions at various schools and sports facilities to promote physical activity and healthy lifestyles for youth.
Both the Bears and Jets have been trailblazers in girls flag football, expanding programs in their respective cities immensely over the past few years. In just one year of the Chicago Public League girls flag football program, the Bears saw a 300 percent increase with over 1,200 girls and 60 teams participating. In New York and New Jersey, the Jets have grown their girls flag football program from eight teams to over 110 teams through three years.