The Bears on Monday waived fullback Evan Rodriguez, brought back receiver Devin Aromashodu for a second stint with the team and made four other personnel moves.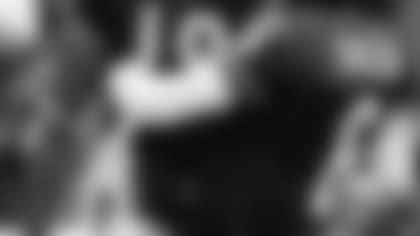 Devin Aromashodu celebrates with Jay Cutler after connecting for a touchdown.
Selected in the fourth round of the 2012 draft out of Temple, Rodriguez appeared in 12 games with five starts as a rookie after being converted from tight end, catching four passes for 21 yards.
Rodriguez was arrested twice this offseason. In March, he was charged with resisting an officer without violence and disorderly intoxication in Miami Beach. But those charges were dropped.
On May 31, he was arrested at about 3:30 a.m. on the Kennedy Expressway and charged with driving under the influence, speeding and improper lane usage. After the second arrest, Bears general manager Phil Emery said that he was "extremely" disappointed in the 24-year-old.
Aromashodu returns to the Bears after spending the past two seasons with the Vikings, catching 37 passes for 650 yards and one touchdown while appearing in 31 games with six starts.
Aromashodu had played the previous two years with the Bears, catching 34 passes for 447 yards and four TDs while appearing in 24 games with four starts.
The 6-2, 201-pounder was selected by the Dolphins in the seventh round of the 2006 draft with a pick Miami had obtained from the Bears in exchange for special teams ace Brendon Ayanbadejo.
After failing to make the Dolphins' 53-man roster, Aromashodu made his NFL debut with the Colts in 2007, catching seven passes for 96 yards while appearing in six games with one start.
The Bears on Monday also signed fullback Tony Fiammetta and receiver Jerrell Jackson and waived receivers Demetrius Fields and Dale Moss.
Fiammetta has appeared in 34 games with 17 starts over three seasons with the Panthers (2009-10) and Cowboys (2011) after being selected by Carolina in the fourth round of the 2009 draft. He has rushed for 26 yards on 11 carries and caught eight passes for 73 yards.
Jackson entered the NFL in 2012 as an undrafted free agent with the Texans. He was signed to the Jaguars' practice squad in December and made his NFL debut in the season finale.