The Bears on Tuesday officially matched an offer sheet that Kyle Fuller signed with the Green Bay Packers last Friday and inked the veteran cornerback to a four-year contract.
The Bears had until Wednesday to match the offer.
"We could not be happier to have Kyle under contract for four more years," said general manager Ryan Pace. "We feel he is an ascending player on our top 10 defense and we look forward to him having many more productive seasons here in Chicago."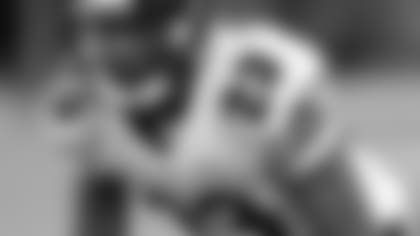 Kyle Fuller was selected by the Bears with the 14th pick in the 2014 draft.


During a conference call Tuesday evening, Fuller told reporters that he was excited to return to the Bears.
"It means a lot," he said. "I'm definitely happy to be back in Chicago. It was a crazy process, but I'm glad it's all over."
With Fuller due to become an unrestricted free agent, the Bears placed a transition tag on the 2014 first-round draft pick on March 6. That gave them the opportunity to match any offer he received from another NFL team, though they would not have been entitled to any compensation had they chose not to match the offer.
Fuller had a resurgent 2017 season after missing the entire 2016 campaign following knee surgery. He started all 16 games, recording 68 tackles, two interceptions and a career-high 22 pass breakups.
"It was really just kind of about showing I was healthy and showing what type of player I could really be," Fuller said. "I was just happy to be able to come out and have fun, enjoy it, and be myself, and I think I showed that last year."
Fuller was selected by the Bears with the 14th pick in the first round of the 2014 draft out of Virginia Tech. He has appeared in 48 games with 46 starts over four seasons, registering 196 tackles, eight interceptions and three forced fumbles.
Fuller's 22 pass breakups were tied for the second most by a Bears player since 1991 and his six PBUs in a Week 16 win over the Browns were the most by an NFL player in 2017 and the most by a Bears player since the stat first began to be tracked in 1994.
"Last year I feel I definitely showed the type of player that I knew I was and people with the Bears knew I was, so I was definitely happy to do that," Fuller said. "But I definitely feel like there's always room for improvement. There are things that I feel like I can definitely get better at moving forward, so I'm definitely looking forward to that. I'm looking forward to continuing to grow and learn and get better."
NFL players who receive a transition tag are assured of a one-year contract for a salary that's determined by a complex formula that includes the average of the 10 highest paid players at the same position over the previous five seasons. The one-year tender amount for cornerbacks under the transition tag is $12.971 million.
In matching Fuller's offer sheet, the Bears have now retained nine of their own players in free agency. They've re-signed outside linebacker Sam Acho, cornerback Prince Amukamara, offensive lineman Bradley Sowell, tight end Daniel Brown and punter Patrick O'Donnell; and tendered receivers Cameron Meredith and Joshua Bellamy and nickel back Bryce Callahan.