INDIANAPOLIS — Bears coach Marc Trestman confirmed Thursday at the NFL Scouting Combine that third-year pro Shea McClellin will move from defensive end to linebacker.
With only 6.5 sacks in his first two seasons, McClellin has not produced like the Bears expected when they selected him with the 19th pick in the 2012 draft out of Boise State. But switching to linebacker should enable him to take advantage of his speed and athleticism.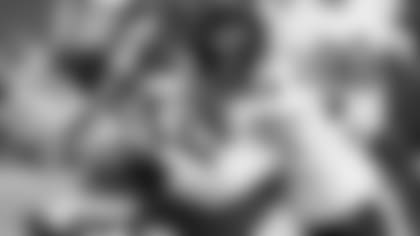 Shea McClellin recorded three sacks in a Week 9 win in Green Bay, including this one that sidelined Aaron Rodgers with a broken collarbone.
"I think Shea is really excited about it; just the opportunity to get off the ball, to be able to run and do some things," Trestman said. "And that doesn't mean Shea won't be a pass rusher. But his skill set is speed. I'm really excited to see how this evolves with him. And most importantly, he's excited about it."
McClellin will initially work at the strongside position, but will also get reps in the middle. He'll compete for a starting job at both of those spots with second-year pros Jon Bostic and Khaseem Greene and most likely a veteran, possibly D.J. Williams.
About the only certainty at linebacker is that perennial Pro Bowler Lance Briggs will return at the weakside position. Williams and James Anderson are both slated to become free agents.
"[McClellin] is going to have to compete for his job," said general manager Phil Emery. "He's going to have to win that job. He could win that job at Sam. He could win that job at Mike.
"We're excited about the competition. That's what makes your team better. And we're excited that we have players that possess enough talent that whoever wins can help us win championships."
The Bears are confident in McClellin's ability to make plays in space.
"We see it every day on the practice field," Emery said. "We see it on the game field. [Vikings running back] Adrian Peterson isn't used much in the passing game, but [McClellin] was one-on-one with him and had no trouble covering him.
"The guy has very good hips, very good quickness and very good speed for his position. His size is something that's rare for us at Sam 'backer. Nick Roach was our Sam 'backer. There's a big difference in size there. [McClellin] is going to be our biggest linebacker.
"He has been as high as [255 pounds]. He told us the other day he was [260]. Knowing Shea, he'll be about [248-52] because of the way he runs. And that will be our biggest linebacker."
The Bears are eager to have McClellin begin working with new linebackers coach Reggie Herring, who spent the last six seasons in the same position with the Cowboys and Texans.
"Coming out [of college], Reggie evaluated him and thought he had the ability and the skill set to be a very good linebacker in the National Football League," Trestman said. "And that was great to hear and great to know. So he's excited about working with him and certainly he is as big of an expert as we have on this staff in terms of the ability of developing a linebacker. So we are excited about it."
While McClellin will be listed as a linebacker, the Bears intend to take advantage of his versatility.
"Shea is going to move to linebacker, but Shea will be used in multiple roles, wherever his skills take him," Emery said. "He is a perfect candidate to be on the field on all downs in some capacity, whether that is blitzing, rushing or playing against the run in run personnel."
Even though McClellin recorded only four sacks in 14 games in 2013, he registered 18 quarterback pressures. The Bears feel that he possesses pass rush ability and will continue to utilize him in that capacity, especially after they tied for last in the NFL with 31 sacks.
"I think it would be to our advantage to use players who have skills to rush the passer," Emery said. "Obviously disappointed on the sack production in terms of that impact, but he was our most productive rusher on our team. So we want to get him involved in that role, whether it's from a linebacker alignment, from a two-point or three-point [stance], or with games and moves and stunts. His athleticism allows him to pressure the quarterback. We want to put him in position where he can make more plays overall."