Bears superfan Shameka Leach headed to Soldier Field the morning of Oct. 22 feeling excited and grateful to attend the team's game against the Raiders. What she believed was an invitation to serve as an honorary referee for a mascot flag football halftime show turned into one of the most thrilling moments of her fandom.
As halftime came to a close, Staley Da Bear and his mascot friends surrounded Shameka, handing her Super Bowl tickets as PA announcer Tim Sinclair named her the Bears' 2023 Fan of the Year in front of over 60,000 people.
"At that moment, actually, I didn't even know that they were saying I was the Fan of the Year because Staley was jumping up and down, people yelling and screaming," Shameka said. "Somebody had to literally whisper in my ear, 'Do you hear what they're saying? You're the Fan of the Year.' I screamed. I was screaming. I was jumping up and down, and it was just amazing."
In addition to her Bears fandom, Shameka was selected as the team's nominee because of her significant community involvement in her hometown of Robbins, Ill., as well as her dedication to the club's community initiatives.
As someone who developed a love for community service as a young adult, Shameka was shocked to be recognized for something she simply is passionate about. But it's her humble attitude and positive spirit that earned her a trip to Super Bowl LVIII, which includes two tickets and a VIP experience with the other Fan of the Year nominees across the league. Fans can now vote Shameka as NFL Fan of the Year until Feb. 7, 2024, by visiting NFL.com/FanOfTheYear.
"That experience was just so amazing to know that this organization looked at what I've done for so many years and recognized and honored me as a fan on their football field," Shameka said. "So my heart was very full that day. I was so excited. I was so grateful. I'm still grateful for this experience. That is the ultimate fan experience of what the Chicago Bears did for me that day."
To make Shameka's Fan of the Year honor even more special, the Bears invited her to spend the day at Halas Hall following the surprise. She received a tour of the facility, participated in a photoshoot and spent time with both President & CEO Kevin Warren and Chairman George H. McCaskey.
"You appreciate those things because these two guys, they could have been doing anything with their time," Shameka said. "This whole experience here has been amazing. You cannot ask for a better day being a fan of the Chicago Bears."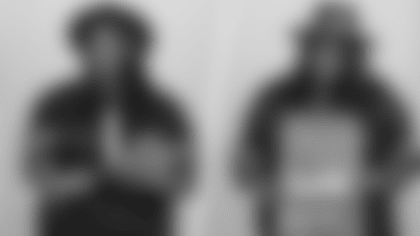 While Shameka's love for the Bears is undeniable, she didn't always gravitate toward football. Her father, who was a loyal Bears fan, made her watch games as his philosophy for his kids was a "to learn what he knew so you don't have the not knowing of something when you're out in the world."
As Shameka grew up, she developed her own love for football as she learned it was so much more than a game. Her aunt introduced her to the community service aspect of the sport and the NFL's involvement in different initiatives like Huddle at Home or Crucial Catch. At age 18, she determined community service was the path she wanted to pursue and eventually, she incorporated sports into her career, marrying both of her passions by organizing free football camps and financial seminars for underprivileged kids.
Showing kids that their dreams are feasible no matter what situation they are in is Shameka's goal. She'll often share her personal story of earning a Shield Metal Arch Welding certificate from Moraine Valley Community College. Adding "welder" to her resume was something she never envisioned for herself, but it serves as a motivator.
"For me, I didn't think I was going to be a welder," Shameka said. "I couldn't see myself suiting up, burning things. I like to look pretty all the time, but at the same time, I could also put boots on, and I could put on a helmet and become just like that next guy or that next tradesman.
"That's what I teach the kids, I walk in as a woman, I leave as a welder. You can walk in as a young student and come out as a football player. You can come out as a baseball player. You can come out anything that you believe. "
Shameka is also a frequent volunteer for the Pro Football Retired Players Association in Chicago, which focuses on improving the lives of former NFL players. She also volunteers at Bears Huddle events, which are monthly community service activities that help improve local areas.
Her fandom and community impact also brought her to the Bears100 Celebration Weekend in 2019, which she calls one of her favorite moments as a Bears fan.
At the celebration, Shameka also met Bears owner Virginia Halas McCaskey, a moment she'll never forget.
"That weekend you saw every living legend," Shameka said. "You got the retired players talking to the new players that were here at the time, all of them just interacting and just having a great time. That showed me that the Bears are not just a team. The Bears are a real family, and it doesn't matter if you're a player, it doesn't matter if you're management, it doesn't matter if you're a fan, we're all family. That's when I think I fell in love all over again with the Bears was the hundredth weekend. It was the best experience on earth."