The Bears will look to rebound from last Sunday's 17-15 loss to the Broncos when they visit the Packers Thanksgiving night in Green Bay. Here are four storylines to watch heading into the game:
1) Can the Bears end the Packers' recent dominance of the rivalry?
The Bears have lost four straight and 10 of the last 11 meetings to their fiercest rival and are in jeopardy of losing the all-time series lead they've held over the Packers since 1933. The Bears enter Thursday night's game with a narrow 93-92-6 edge in the series, having lost 36 of 48 meetings since 1992.
Bears veteran guard Matt Slauson, who played his first four NFL seasons with the Jets from 2009-12, conceded this week that losing so frequently to a rival can get in a player's head.
"In my experience, yes, that can be an issue," Slauson said. "But it's only an issue if you allow it to be one. My experience is that when you are going up against a really good team, you can already lose the game before it's even played. We have to make sure that we aren't going to do any of that.
"Back in the past, just throughout my career, sometimes playing New England—a lot of times you're going into the game and you're already telling yourself, 'Wow. This is going to be really hard to get a win.' But you can't afford to think like that. And I don't believe anybody on our team is."
2) Can the Bears finally contain Packers quarterback Aaron Rodgers?
Green Bay's recent dominance over the Bears has been fueled by Rodgers, a two-time NFL MVP whose 105.6 career passer rating is the best in league history.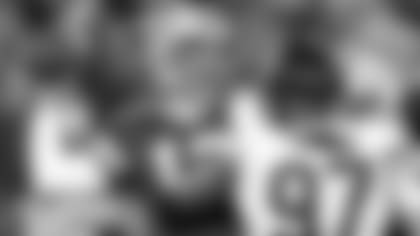 Aaron Rodgers has compiled a 13-3 career record vs. the Bears as a starter while completing 328 of 478 passes for 3,881 yards with 34 touchdowns.
Rodgers has owned the Bears, compiling a 13-3 career record as a starter while completing 328 of 478 passes for 3,881 yards with 34 touchdowns, 10 interceptions and a 108.0 passer rating.
Rodgers has won the last 10 games he's started and finished against the Bears. Chicago's only victory over Green Bay since 2010 came in 2013 when Rodgers broke his collarbone on the Packers' first possession when he was sacked by Shea McClellin.
Rodgers embarrassed the Bears last year, passing for 617 yards with 10 touchdowns and no interceptions in 38-17 and 55-14 victories. In the second meeting in Green Bay, he set an NFL record with six TD passes in the first half as the Packers raced to a 42-0 halftime lead.
Bears defensive coordinator Vic Fangio was 4-0 against Rodgers and the Packers while serving in the same position with the 49ers from 2011-14. But Green Bay still averaged 25 points in those four defeats.
Asked this week if Rodgers is the best quarterback he's ever faced, Fangio said: "I don't know if he's the best, but there's nobody better."
3) Will the Bears be able to run the ball as well as they did against the Packers in Week 1?
Kyle Long's expected return after missing three games with a knee injury should provide a big boost to a Bears running game that was held to a season-low 86 yards in last Sunday's loss to the Broncos.
The Bears rushed for a season-high 189 yards in a Week 1 defeat to the Packers as Forte ran for 141 yards and one touchdown on 24 carries. Asked this week about the ground game in the first meeting with Green Bay, Forte credited the blocking he received.
"The offensive line did a great job of controlling their guys," Forte said. "They've got a lot of big guys up there in the 3-4 defense. If we can control those guys, we can establish the run. That's the key. It helps out the passing game. It makes you effective in the red zone, too, where we've been struggling."
Having sustained success on the ground Thursday night won't be easy against a Packers defense that held Vikings star Adrian Peterson to just 45 yards on 13 carries last Sunday, his lowest output since Week 1.
"They did a great job as far as swarming the ball," said Bears offensive coordinator Adam Gase. "They were tackling as a group. They were relentless. They did a great job of not letting him shake free. I know he had a couple good gains, but they did a good job at least containing him and making sure they got him on the ground."
4) Will receiver Alshon Jeffery play?
The Bears offense is much more explosive with Jeffery, a true difference-maker and game-changer who's capable of consistently winning 1-on-1 battles with defenders for contested balls.
Unfortunately, Jeffery has been hampered by injuries since the summer. He missed the entire preseason with a calf injury, returned to catch five passes for 78 yards in the season-opener against the Packers and then missed the next four games with a hamstring injury he suffered in practice.
When he returned to action, Jeffery tied a Bears receiving record with three straight 100-yard games against the Lions, Vikings and Chargers. But he hurt his groin in practice and was used primarily as a decoy in a win over the Rams before sitting out last Sunday's loss to the Broncos.
Jeffery practiced on a limited basis Tuesday and said he feels "a lot better than I felt last week." But it probably won't be known whether he'll play until a couple hours before kickoff Thursday night.