Gavin Waterman will lose his hair after beginning chemotherapy this week. But the six-year-old cancer patient from downstate Mattoon won't be the only one sporting a bald head.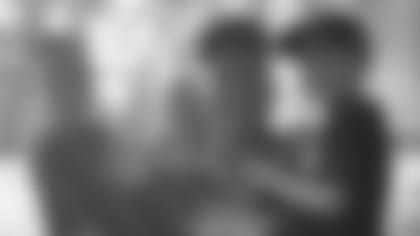 Bears linebacker Blake Costanzo gives Gavin Waterman (wearing Bears hat) and his brothers Kaleb and Dylan a lift.

To help raise money for the Waterman family and raise cancer awareness, Bears punter Adam Podlesh and five of his teammates recently had their heads shaved at the Walter Payton Center. Gavin attended the event along with his parents and two brothers.

"It went great," Podlesh said. "The family was very thankful. They had a blast. The kids definitely had a blast. It was not only great that they got to meet some Bears players and see the gesture and have some fun, but they also got to see the facility. It was really a fun experience for them."

In addition to Podlesh, the other Bears who had their heads shaved were kickers Robbie Gould and Austin Signor, linebackers James Anderson and Blake Costanzo and tackle Cory Brandon.

"It just shows a selflessness that a lot of guys have, especially considering that a lot of these guys are on a camera a whole lot," Podlesh said. "To not only say 'I care about other people' but 'I'm also going to put [their looks] on the line,' it shows the type of people we have in this locker room."

"It's important to show support," said Anderson, who signed with the Bears in March after spending his first seven seasons with the Carolina Panthers.

"You're supporting your teammates and you have a young man who's just a kid who's going through such a dramatic experience and hasn't even had a chance to enjoy life. You want to show him that people out there care for him and there is some good out there, and I just wanted to be a part of it."

Podlesh was introduced to Gavin by Phil Zielke, a cancer survivor who founded "Phil's Friends," an organization that provides support and comfort to those who are fighting cancer.

Donations can be made by clicking here. To show his appreciation, Podlesh will give away 20 different items autographed by all the players who had their heads shaved. Each $25 donation represents one entry.

It's a cause that hits close to home for Podlesh, a cancer survivor himself. The punter was diagnosed with salivary gland cancer in February 2010 when he played for the Jacksonville Jaguars, and underwent surgery a month later to have a malignant tumor removed.