Linebacker Sam Acho visited Heffernan Elementary School in Chicago on Tuesday, November 15, where he helped present a $10,000 NFL Hometown Grant to Chicago Public Schools Network 5 from the Chicago Bears and Midwest Dairy Council.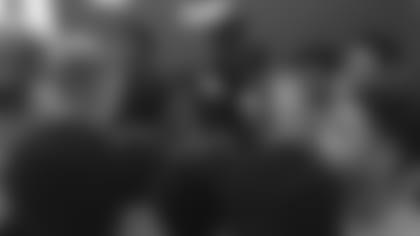 Linebacker Sam Acho huddles up with the kids at Heffernan Elementary School in Chicago.


The grant will support healthy eating and physical activity programs at schools in Network 5 including Heffernan Elementary, Kellman Corporate Community Elementary, George W. Tilton Elementary, and George Westinghouse College Preparatory High School. Representatives from Chicago Public Schools Network 5, Midwest Dairy Council, and the Chicago Bears were also in attendance.
Following the presentation, Acho helped the 100 students in attendance PLAY 60 by leading them through a variety of football and exercise drills...including a cheerleading routine!
The National Foundation on Fitness, Sports & Nutrition joined the partnership this year and is providing resources, such as assessment software, training tools, and student recognition, to enable schools to implement the Presidential Youth Fitness Program, the nation's youth fitness education and assessment program. The donation is being made as part of the Foundation's #0to60campaign honoring the 60th anniversary of the President's Council on Fitness, Sports & Nutrition.
Fuel Up to Play 60 is an in-school nutrition and physical activity program launched by the National Football League and National Dairy Council. The program encourages youth to consume nutrient-rich foods and achieve at least 60 minutes of physical activity every day. It is designed to engage and empower youth to take action for their own health by implementing long-term, positive changes for themselves and their schools. Customizable and non-prescriptive program components are grounded in research with youth, including tools and resources, in-school promotional materials, a website and student contests.