Lake Park High School graduate Sarah Hamideh has been named the recipient of the 2015 Chicago Bears Collin Wehr Scholarship.
Cornerback Sherrick McManis and Bears representatives surprised Hamideh at her home last Tuesday to tell her that she would be receiving the $20,000 scholarship for the 2015-2016 school year.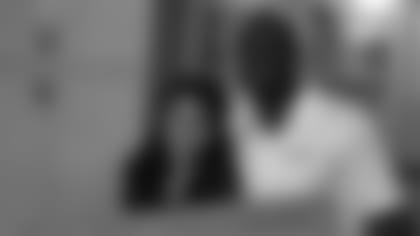 Bears cornerback Sherrick McManis helped present the Collin Wehr Scholarship to Sarah Hamideh.
Hamideh graduated from Lake Park in Roselle in 2014 with a 4.89 GPA and will attend the University of Illinois this fall to study Elementary Education. As a sophomore in 2012, she was diagnosed with and battled acute lymphoblastic leukemia. She has been in remission for three years.  
Hamideh is the first member of her immediate family to attend college and feels passionately about pursuing a career in teaching, especially after not being able to attend her high school while receiving treatment.  As she explained in her application: "As someone momentarily stripped of a normal education, I take it upon myself to illustrate the value education holds to those who may not yet realize it."  
The Chicago Bears Collin Wehr Scholarship program provides financial assistance to young cancer survivors or the siblings of children who lost their battle with pediatric cancer. The scholarship program is designed to ease the financial and emotional hardships associated with fighting cancer and to provide the opportunity for young people affected by cancer to pursue their post-secondary education from an accredited university, college, community college or vocational technical school.
The inspiration for the scholarship comes from Collin Wehr, who lost his battle with pediatric cancer in March 2013. Collin first visited Halas Hall in 2011 to fulfill his wish of being an NFL Network reporter and reporting live from Halas Hall alongside Tom Waddle. Collin and the Wehr family became a permanent part of the Bears family that day, and the scholarship named for him serves as a tribute to a very special young man.