EAST RUTHERFORD, N.J. – Jay Cutler's 21-yard touchdown pass to Brandon Marshall was a thing of beauty Friday night against the Giants, but Bears starters didn't generate enough impact plays on either side of the ball.
After the dynamic duo connected down the left sideline late in the first quarter, the Giants outscored the Bears 14-0 during a forgettable second period, turning a 7-3 deficit into a 17-7 lead before Chicago rallied in the second half for a 20-17 preseason victory at MetLife Stadium.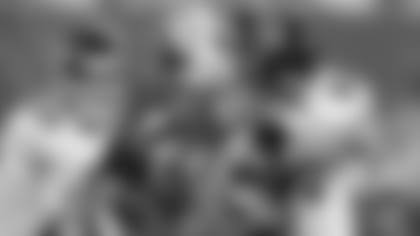 Bears defensive backs Tim Jennings (26) and Major Wright team up to stop Giants wide receiver Ramses Barden.
"Starting off in the first half we didn't play as well as we needed to in all three phases," said coach Lovie Smith. "One good thing we did do tonight was protect the football. Of course that's one of our goals. But we talk a lot about explosive plays and we didn't have enough tonight."
Cutler completed just 9 of 21 passes for 96 yards before exiting after leading the Bears (2-1) to a field goal against Giants reserves on Chicago's first series of the second half. He was not sacked and wasn't pressured very much by New York's vaunted defensive line.
"We just looked off tonight," Cutler said. "Our communication was lacking. We missed some stuff we should have hit. We left a few plays out there. I thought the offensive line did a good job pass blocking. We have to get the run game going a little bit. So there is work to be done, but we were right there in the game."
Despite the lack of execution, Cutler wasn't too discouraged.
"We're in a good place," he said. "We're heading in the right direction. We just need to clean up a few things. Really it's communication things, which is the easiest part to clean up. Physically, we're in the right place. We're doing the right things, so we just have to execute a little better."
That was especially true in the second quarter when the Bears struggled in all three phases. Cutler completed 2 of 9 passes for 14 yards; the defense allowed Eli Manning to connect on 7 of 7 passes for 59 yards and a touchdown; and Chicago had a punt blocked and fumbled a kickoff return.
The running game didn't provide much help as Matt Forte (8 carries for 4 yards) and Michael Bush (1-2) combined to rush for only six yards on nine attempts in the first half.
Cornerback Charles Tillman struggled in the second quarter. He allowed receiver Ramses Barden to catch an 11-yard touchdown pass from Manning and then drew a pass interference penalty while defending Barden in the end zone, setting up Andre Brown's 1-yard TD run on the next play.
Brown's touchdown, which gave the Giants a 17-7 lead with 1:17 left in the half, came after Dante Hughes had blocked a Ryan Quigley punt and New York's Greg Jones recovered at the Bears' 10.
Manning exited at halftime after completing 17 of 21 passes for 148 yards and a 111.9 rating.
The Bears looked sharp on their first three plays of the second half as Forte had rushes of 24 and 11 yards and Cutler completed a 19-yard pass to Devin Hester.
But Earl Bennett uncharacteristically dropped a sure touchdown pass in the end zone on third down, and the Bears settled for Robbie Gould's 30-yard field goal, drawing to within 17-10.
On Chicago's next possession, rookie Alshon Jeffery dropped a Jason Campbell pass on third down, and Gould followed with a 48-yard field goal that made it 17-13.
The Bears regained a 20-17 lead on Campbell's 12-yard TD pass to rookie Joe Anderson, who spun away from cornerback Bruce Johnson and dashed into the end zone with 8:22 left in the game.[ ](http://www.phoenix.edu/campus-locations/il.html?utmsource=Story&utmmedium=instory&utmcampaign=300x100)
Rookie cornerback Isaiah Frey later secured the win by intercepting a David Carr pass that was deflected by safety Anthony Walters in the end zone with just 1:06 to play.
Bears reserves held the Giants scoreless in the second half, forcing six straight punts before Frey recorded Chicago's only takeaway of the game.
"In the second half some of our backup players really stepped up and did a super job," Smith said. "We hung in there and found a way to win at the end."