The entire Bears' rookie class joined youth football participants at a Chicago Bears Youth Football Camp session Friday at the Lincoln Park South Fields in Chicago.
The Bears rookies assisted camp coaches by running kids through non-contact football drills and teaching them a variety of skills.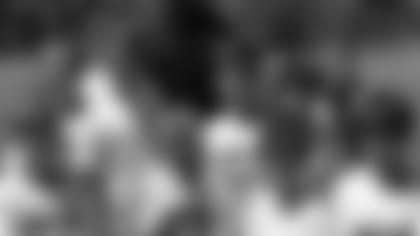 Bears first-round draft pick Kyle Fuller poses with campers Friday at Chicago's Lincoln Park.
The group included Cody Booth, Ka'Deem Carey, James Dunbar, Brandon Dunn, David Fales, Ego Ferguson, Kyle Fuller, Ryan Groy, Christian Jones, DeDe Lattimore, Charles Leno Jr., Al Louis-Jean, Jordan Lynch, Patrick O'Donnell, Michael Ola, Lee Pegues, Senorise Perry, Derricus Purdy, Chad Rempel, Will Sutton, Marcus Trice and Brock Vereen.
The event was the fourth that the Bears rookies have participated in as part of the "Rookie Rally" program. The program was created by the Bears' community relations department to involve the team's first-year players in charitable activities throughout the season. The program helps the rookies learn more about their new community, serve several worthwhile charitable organizations in the area and bond together through volunteerism.
About Chicago Bears Youth Football Camps: Chicago Bears Youth Football Camps are the official youth camps of the Chicago Bears. Children between the ages of 6-14 learn to run, throw, catch, defend, form block, form tackle and explode out of a stance with proper technique and improved speed. Brought to you by Gatorade and Athletico, these week-long camps provide safe, non-contact football instruction and athletic development as well as instruction about good nutrition, proper hydration, and rest and recovery. Camps are led by professional educators with supplemental instruction from Chicago Bears Camp Heroes. Certified athletic trainers are provided by Athletico, the exclusive provider of training services for all Chicago Bears Youth Football Camps.
For more information or to register, please visit BearsCamps.com today!