LAKE FOREST, Ill. – Before they head to Bourbonnais for training camp and long before their first preseason game, Bears rookies ventured out into the community to donate their time to worthy causes.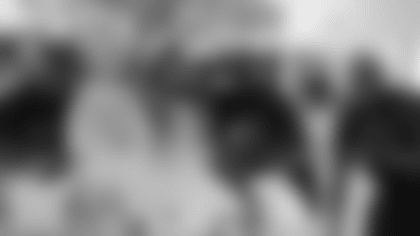 On Friday, June 10, the 2016 Bears Rookie Class, including Deiondre' Hall, Jordan Howard, Cody Whitehair, Daniel Braverman, Deon Bush, Nick Kwiatkoski and DeAndre Houston-Carson visited Shriners Hospital for Children - Chicago where they interacted and played games with over 30 patients. The rookies, alongside the kids, participated in various activities such as wheelchair sports, chess, ping pong, football and coloring.
Cathleen Himes, public relations specialist at Shriners Hospital for Children - Chicago, said the visit will be remembered by their patients and families for years to come. "It was incredibly kind and thoughtful of the Chicago Bears rookie players to visit Shriners Hospitals for Children," said Himes. "Our patients couldn't stop smiling while interacting with the players! Their laughter was the perfect indication of just how much fun they had, and we want to thank the Bears for such an extraordinary afternoon."
The following week, Bears rookies joined nearly 100 kids from the local Hispanic community and Chicago Bears Youth Football Camp coaches at Hanson Stadium on Chicago's northwest side. The rookies assisted the coaches by running the kids through numerous football drills and teaching them a variety of non-contact football skills and activities.
These events were two of four volunteer activities that Bears rookies will participate in as part of the "Rookie Rally" program. The program was created by the Bears Community Relations department to integrate the team's first-year players, as a group, into community activities throughout the season. The "Rookie Rally" program helps the rookies learn more about their new community, serve several worthwhile charitable organizations in the area, and bond together as a group through volunteerism.
About Chicago Bears Youth Football Camps: Chicago Bears Youth Football Camps are the official youth camps of the Chicago Bears. Children between the ages of 6-14 learn to run, throw, catch, defend, form block, form tackle and explode out of a stance with proper technique and improved speed. Brought to you by Gatorade and Athletico, these week-long camps provide safe, non-contact football instruction and athletic development as well as instruction about good nutrition, proper hydration, and rest and recovery. Camps are led by professional educators with supplemental instruction from Chicago Bears Camp Heroes. Certified athletic trainers are provided by Athletico, the exclusive provider of training services for all Chicago Bears Youth Football Camps.