The Bears School Outreach program kicked-off for the 2014 school year on Tuesday, September 9 when cornerback Kyle Fuller and defensive end Lamarr Houston visited Jordan Community School in Chicago. The players were introduced by Bears Senior Director of Special Projects Patrick McCaskey, and Jordan principal Ashley Peterson before speaking to a group of students about the importance of education, and the challenges they overcame to get to the NFL. Afterwards, Kyle and Lamarr participated in a B.A.M. counseling session with approximately 25 students in 7th-8th grade, and took part in a team-building exercise.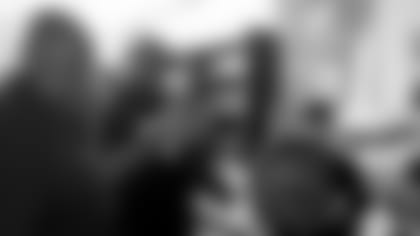 Lamarr Houston speaks to students at the Bears School Outreach
On Tuesdays during the football season and through a partnership with Youth Guidance, Chicago Bears players will visit Chicago Public Schools to speak to, motivate, and interact with students who are part of the B.A.M (Becoming a Man) and W.O.W. (Working on Womanhood) programs. The B.A.M. program focuses on six core values, including Integrity, Accountability, Self-Determination, Positive Anger Expression, Visionary Goal Setting, and Respect for Womanhood. W.O.W. focuses on five core values, including Self-Awareness, Emotional Intelligence, Healthy Relationships, Visionary Goal-Setting, and Leadership.
Bears players who have supported Bears School Outreach in 2014 include Kyle Fuller, Lamarr Houston, Jordan Mills, Cornelius Washington and D.J. Williams. The Bears School Outreach Program is in its 17th season and is brought to you by the University of Phoenix, the Official Education Partner of the Chicago Bears.