The Chicago Bears were excited to kick off the 19th season of Bears School Outreach on Tuesday, September 27! Each year, the Chicago Bears and Youth Guidance partner on the Bears School Outreach program. As part of Bears School Outreach, Chicago Bears players visit Chicago Public Schools to visit with students who are part of Youth Guidance's B.A.M (Becoming a Man) and W.O.W. (Working on Womanhood) programs. B.A.M. focuses on six core values, including Integrity, Accountability, Self-Determination, Positive Anger Expression, Visionary Goal Setting, and Respect for Womanhood. W.O.W. focuses on five core values, including Self-Awareness, Emotional Intelligence, Healthy Relationships, Visionary Goal-Setting, and Leadership.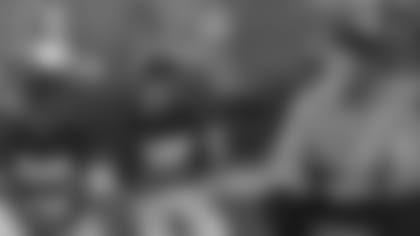 Offensive tackle Charles Leno Jr., Jr. spoke with students during a B.A.M. session.


The official kick-off event took place at Jordan Community Academy, where tackle Charles Leno, Jr. joined Bears Senior Director of Special Projects Patrick McCaskey during an assembly for 6th, 7th and 8th graders. Following the assembly, they participated in a B.A.M. session with 25 of the 8th grade students.
Elsewhere in Chicago, wide receiver Alshon Jeffery visited Fenger High School in the Roseland neighborhood where he participated in a B.A.M. session and team-building activities. Defensive back DeAndre Houston-Carson visited Amundsen High School in the Lincoln square neighborhood and took part in both a B.A.M. and W.O.W. session.
During B.A.M and W.O.W. sessions, the players and students are asked to "check-in" by saying how they are feeling physically, intellectually, emotionally and spiritually. Once everyone checks in, the B.A.M. and W.O.W. counselors will lead the session, either focusing on one of the core values, or on an issue that a student or students may be struggling with.
The sessions offer an open forum for students to discuss what is on their minds and hearts, and get feedback from their peers and leaders. The Bears players participate freely in the discussions, often sharing challenges that they faced growing up, which students are usually surprised to find aren't much different from what they are facing today.
Additionally, wide receiver Eddie Royal visited Southside Occupational Academy High School. While not part of the Youth Guidance system, the Bears have a long history of visiting the students at Southside Occupational. Eddie was welcomed to the school with a pep rally and a festive rendition of "Bear Down, Chicago Bears." Southside Occupational is a transition center for students aged 16-22 years with disabilities, and provides students with educational training opportunities in the areas of Independent Functioning, Social Learning, Vocational, and Applied Academics.